Part Two: Badgers' Purposeful Action Contributes to the Common Good
In our second of a four-part series exploring the Wisconsin Experience, we explore how Badgers work toward something bigger than themselves — and address two national problems in one resourceful way.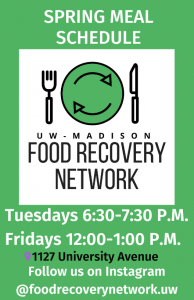 Every week, Badgers descend upon the UW–Madison campus in search of leftover food. But it's not what you think.
These Badgers travel by minivan.
On Tuesdays and Thursdays, UW Senior Morgan Barlin gets a minivan provided free of charge by Transportation Options at the Morgridge Center for Public Service. Barlin drives to a UW Housing dining hall loading dock on campus, meets with one of the chefs, picks up surplus food, and loads up the van with that day's leftovers.
"We pray that nothing spills, and then we go on to the next dining hall," Barlin says with a chuckle.
Next stop is The Crossing on University Avenue. There, she meets a group of UW student volunteers who help reheat the food and prepare the dining room. "Then Madison residents can simply come and eat," Barlin says. "We mostly get Madison students because we're on campus, but it's definitely open to all. Everyone can come and enjoy the meal for free."
Together, these Badgers are at the forefront of a movement. Barlin, along with UW junior May Jagodzinski, are co-directors of the UW–Madison chapter of Food Recovery Network (FRN), a student-led organization helping to resolve two seemingly contradictory problems with America's food systems: food insecurity and unnecessary waste.
UW–Madison's Food Recovery Network
UW's Food Recovery Network is just one chapter of a national group, says Jagodzinski. In fact, FRN is a national organization with chapters throughout the country. It kicked off more than a decade ago with a small group of college students who noticed their campus dining hall food ending up in the trash, at the same time there were people who lacked food to eat. The students devised a way to both recover the food destined for landfills, and provide that food to the local community at no cost. Since then, hundreds of chapters have cropped up across the country.
In 2014, UW–Madison became one of those chapters. And with the exception of a small hiatus at the pandemic's peak, Barlin says UW–Madison's FRN chapter has been recovering food steadily since then. Right now they have partnerships with Rheta's Market, Four Lakes Market, and Gordon Avenue Market — and they've recently added Carson's Market, expanding their reach even further.
Purposeful Action and the Wisconsin Experience
Through their passion, determination, and sharp organizational skills, it's clear the students involved in Food Recovery Network take their Wisconsin Experience seriously. Previously in the Wisconsin Experience Series, we've explored what sparks Badgers' relentless curiosity. But once you obtain knowledge, then what? If you're one of the Badgers who keeps FRN recovering and serving food each week, you engage in purposeful action, of course.
According to the Wisconsin Experience website, Badgers are unflagging in their search for greater meaning through purposeful action: "We work for the common good — for something that's bigger than ourselves. We apply knowledge and skills to solve problems; we engage in public service, partner with others, and contribute to the community; and we lead for positive change." This engagement in deeper meaning, intellectual and personal growth, and extending beyond the classroom is unique to UW–Madison. It's what sets Badgers apart, says Dean of Students Christina Olstad: "The idea is that every Badger can leave a lasting impact on this world."
For Barlin, who studies Community and Environmental Sociology and Environmental Studies, with a certificate in Food Systems, applying what you learn in the classroom to the broader community is central to the Wisconsin Experience. While sheltering in place early in the pandemic, she was learning about grassroots movements locally and globally that inspired her, "…but I felt so trapped because everything was on a screen. I just wanted to get my hands dirty because I saw that things were happening and I wanted to be a part of it." A Boston native, Barlin believes that she's at UW for far more than a diploma. "[As a student,] you never want to operate with tunnel vision. What you learn is for the benefit of the community," she says.
Barlin and the rest of the FRN group is certainly walking the talk: she adds that beyond their twice-weekly meals at The Crossing, the group partners with the Bayview Foundation, a non-profit organization providing affordable housing and support services for low-income Madison residents. Each week they bring food to the community, and residents fill up their own containers — again, at no cost.
Two Pressing Problems; One Ingenious Solution
In characteristic fashion, these Badgers are addressing a complex global issue with ingenuity and tenacity. In fact, they address two seemingly contradictory problems at once: according to Barlin, "There are food insecurity problems, yes. At the same time, so much food is being thrown out everywhere." While one side of town may have access to fresh, healthy food nearby, other Madison-area residents live in what are termed food deserts, in which people have little-to-no access to good-quality, fresh food at an affordable cost.
And surprisingly, in the US food deserts are sometimes right next to areas full of options. "People are going hungry in the very same places that food is being thrown out," Barlin adds. "And we've found the best way to ameliorate both of those issues at once is to recover that food, and give it to people for free." A single elegant solution to two related issues, in one fell swoop. How's that for purposeful action?
This all amounts to a tremendous impact in the community. "Each recovery averages to be about one hundred pounds of food. And we do two or three recoveries every week." Barlin says. So far this semester, the group has recovered more than 4,000 pounds of food, and served it all at no cost. And what would happen to all of that food if FRN didn't recover it?
"It would get thrown out," Barlin says.
This means there's an additional benefit to UW on top of all this, Barlin adds. This recovery process is actually saving money for UW dining halls, since they pay for trash disposal by the pound. "It's really win-win," she says.
A Wisconsin Experience for Everyone
If any UW students are interested in Food Recovery Network, what can they do? Barlin says volunteering is easy, and no-pressure: "I always tell people, we'd love for you to volunteer, but we'd also love for you to just come to the meal. Just come and eat with us." She adds that people who come to meals often end up volunteering.
And Barlin loves seeing volunteers come to meals, but loves them coming back even more. She says the group is a friendly bunch who loves what they do. "You realize how important a few very passionate people are. We're always looking for more passionate people."
In other words, Badgers are not ones to simply sit around and stew about global challenges. Instead, we make stew and feed the world.
For more information or to contact FRN, message them on Instagram or email them at frn.uwmadison@gmail.com.
Resources