Part One: Wisconsin Experience Seminar Fuels Badgers' Relentless Curiosity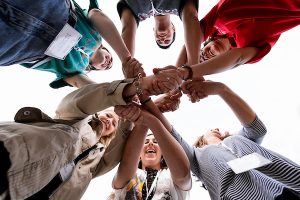 What makes a Badger?
Is it being a student, family member, friend, fan, or community member? Excellence in academics, athletics, and public service? Hard work? Tenacity? Humility? Pride?
It is all of these, to be sure.
But it's also an approach toward the world. A way of seeing and being. Being a Badger isn't simply who you are; it is also what you do. In this four-part feature series, we'll explore that journey of personal growth for UW students — or as it's called here, the Wisconsin Experience.
The Wisconsin Experience
According to its website, the Wisconsin Experience is UW–Madison's vision for the total undergraduate student experience. It encompasses each Badger's journey to becoming a more active, thoughtful, well-rounded citizen of the world.
"The Wisconsin Experience encourages students to mindfully engage in four core concepts throughout their time on campus: Empathy and Humility, Relentless Curiosity, Intellectual Confidence, and Purposeful Action," says UW–Madison Dean of Students Christina Olstad.
Closely linked to the Wisconsin Idea, the Wisconsin Experience embraces institutional values such as truth-seeking and serving one's community and the world. The Wisconsin Experience, then, comprises all the ways students develop and integrate these values across their education, both inside and outside the classroom.
Although "our mission to be better people — and to create a better future — is the same," the Wisconsin Experience isn't singular. It's as distinctive as the students themselves: "Every Badger is unique, and it's important that every Wisconsin Experience is individualized," says Olstad.
Curiosity Builds Community
But how can students cultivate their own Wisconsin Experience? How can they explore that relentless curiosity that made them Badgers in the first place?
One initiative helping to fuel Badgers' relentless curiosity is the Wisconsin Experience Seminar administered by Student Affairs' Center for the First-Year Experience. A small, discussion-based course (classes are capped at 20 students), the Wisconsin Experience Seminar is designed to support first-year and transfer students in their transition to academic and student life by delving into the history of UW–Madison, helping students engage with campus resources to develop successful habits, fostering skills to achieve career goals, analyzing dimensions of social identity, and more.
"We cover all sorts of topics — study tips, career development, stress management strategies, social justice, and how they might approach their next four years," says Almira Karajic, academic advisor with the Center for Academic Excellence (CAE) and Wisconsin Experience Seminar instructor. "We also look into First Nations history and the relationship with the city of Madison and the university. It's often the first time they're learning about it."
The course also helps students connect. With its 938-acre campus, 288 undergraduate majors, nearly 900 student organizations, and myriad ways to work alongside some of the world's leading scholars on trailblazing research, UW–Madison has nearly unlimited opportunities for students to find themselves and make their mark. But its size can sometimes be intimidating to students, especially when they first arrive on campus. Karajic says the seminar is just one way students can make a large campus feel more intimate.
"We mainly focus on building community in that small classroom size," she notes. "Most students will leave with a friend or two from the class that they keep in touch with."
Karajic says this community building is key to students feeling comfortable enough to engage that relentless curiosity the university fosters. "They're having these incredible conversations with their peers that they've built community with, about how they can be curious and explore, through student orgs and other resources on campus," she says, stressing that the seminar is a no-judgment zone.
"It's a safe but brave space," she says. "That's really where the magic happens."
An Experience of a Lifetime
The Wisconsin Experience Seminar is unique in that students don't just take the class; they also teach it. Jaylah Batemon, a fourth-year psychology major with a certificate in disability rights and services and CAE Scholar, is a Wisconsin Experience Seminar teaching fellow who co-leads a course section alongside Karajic. Both Karajic and Batemon stress that the teaching fellow role is a special opportunity for students to be mentored as they take on more responsibility.
"We're 50/50 on teaching," Karajic says. "We're both fostering inclusion in the classroom, making lesson plans, figuring out how to run things. So being a part of [Jaylah's] story and growth, too, is so great."
Batemon is enthusiastic about the impact the seminar can have. "I think the course is definitely a great bridge between high school and what college is like, especially if you're someone like me, who's a first-generation college student and didn't have that prior knowledge or those people telling me what I need to do," she says. "And I always emphasize to them to feel free to use me as a resource. I think that is one of the main benefits of the course' having an experienced student show them the ropes."
It's also clear that the seminar has also been instrumental in Karajic and Batemon's own Wisconsin Experiences: For exceptional students like Batemon, being a teaching fellow can help them find an eventual career. "I actually want to work with students when I graduate in May," she says. "Working with first-year students really makes me want to continue to work with undergraduates."
And for exceptional academic staff like Karajic, it's an opportunity to engage more personally with students: "It is a great privilege and honor to be in a classroom with students and to see that side, to empathize with their journey. I'm so glad to be one of the first people to be a part of helping students cultivate their Wisconsin Experience," she says. "It's such a special time."
"Every Badger Can Leave a Lasting Impact"
Ultimately, what sets the Wisconsin Experience apart?
"Intentionality," says Karajic. "It's diving deep into your own values, and it's joining a community. The seminar is a way to help students make sense of things, and tailor their experiences to their goals and aspirations, as they contemplate their impact on this community, in this world. Then we call them to action." Karajic says that exploring their innate curiosity about themselves and others, getting involved in research, study abroad, the student org fair, the Diversity Forum, or even becoming a teaching fellow themselves, they can get to know themselves as they impact others in the community.
"The Wisconsin Experience is what separates UW–Madison alums from those of other institutions," adds Olstad. "The idea is that every Badger can leave a lasting impact on this world."
So that's what makes a Badger.
Resources to help foster relentless curiosity:
Wisconsin Experience Seminar website
Wisconsin Experience Seminar summer launch
The Wisconsin Involvement Network
Daily list of events at UW–Madison
WISCIENCE: Wisconsin Institute for Science Education and Community Engagement
Student SEED: Seeking Education Equity through Diversity
Becoming a House Fellow in a residence hall
And finally: if a student is interested in being a teaching fellow for the Wisconsin Experience Seminar, what can they do? "Definitely hit up the Center for the First-Year Experience," Batemon says. "They will have information about how to get involved. They're great and would love to help out."
—Angela Barian