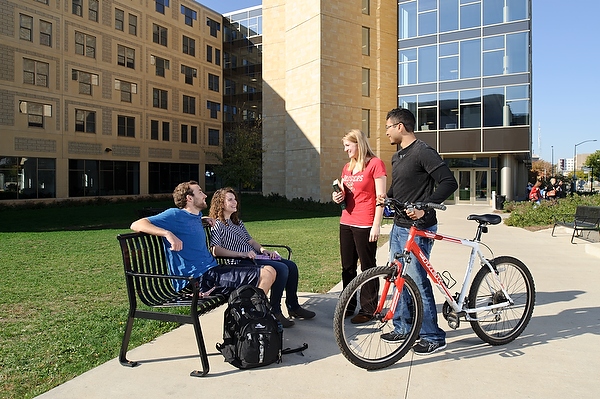 Out-of-Town Bus Services
The Badger Bus, Better Bus, Greyhound Bus, Jefferson Bus Lines, Lamers Bus Lines, Mega Bus, and Van Galder Bus Company all depart from campus.
Madison-Area Taxi Services
Madison Taxi: 608-255-8294
Union Cab: 608-242-2000
Air Travel
The Dane County Regional Airport is about seven miles from campus and students can easily get there via taxi or the city bus. Another option is to fly into Milwaukee Mitchell International Airport, Chicago O'Hare Airport, Chicago Midway Airport, or the Minneapolis–St. Paul Airport and use bus transportation.
Students find that the fastest, easiest, and most economical ways to get around campus are by walking, biking, or riding the bus. Students are encouraged not to bring a car to campus due to limited parking space.
Getting Around Campus
The university and the city of Madison are considered premier locations for biking. Campus has more than 16,000 bike parking stalls. Madison and Wisconsin laws recognize bicycles as vehicles and give bikes the right to use most roadways. Cyclists using roadways are required to comply with all traffic signals and laws. Wisconsin state law requires the use of a white front headlight and a red rear reflector at night. Bicycles are not required to be registered, however registration can help with recovering a stolen bike.
UW students are eligible for the Associated Students of Madison bus pass, which provides unlimited, free access to all city routes. Fare-free campus bus routes 80, 81, 82, and 84 can be used by anyone, including students and visitors. All campus buses are kneeling buses, capable of transporting wheelchairs and other mobility equipment. Find campus route maps and schedules on the Madison Metro website.
The Accessible Circulator Shuttle provides supplemental service to the campus bus for those with mobility limitations. The shuttle serves campus buildings via on-call or pre-scheduled service. The Transportation Services website provides additional information.
Read more from Transportation Services on accessible parking information, buses, pedestrian routes, and other accessibility resources.
Moped owners must have a valid UW parking permit and park in designated stalls on campus. Mopeds are not permitted to park on sidewalks or at bike racks in the city of Madison, unless the area is signed as a Moped Parking Area.
Due to limited availability, student parking on campus is rarely granted and few students qualify for permits. Priority is given to students who are commuting from outside of Madison. Temporary parking is available on a first-come, first-served basis.
Visitor Parking
If you are driving a vehicle while visiting campus, please plan to take a few extra minutes to locate parking. If you park in UW parking lots, observe lot enforcement times posted at the entrances. Be prepared to pull a ticket, pay at a timed parking stall (pay-by-phone "meter"), or pay a parking attendant. Hourly parking is available on a first-come, first-served basis at gated parking facilities. Information on locations and rates can be found transportation.wisc.edu or map.wisc.edu.
Visitors can call UW Transportation Services at 608-263-6666 for assistance. In addition, the city of Madison has more than 5,000 public parking spaces downtown and on-street metered spaces for visitors.