In collaboration with Wisconsin Athletics, the Parent and Family Program is offering our annual Badger family discount of $13+fees (regularly $24+fees) for a winter Wisconsin Men's Hockey series. This year's series will be against Michigan on Friday, January 28 (6 p.m.) and Saturday, January 29 (8 p.m.) at the Kohl Center.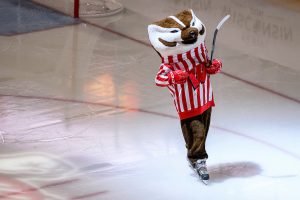 These specially-priced tickets are available for Badger families only through our unique link here.
Families will be able to purchase tickets until 4:30 p.m. on the day of each game and should check for which day(s) they purchased tickets. Please note that student season tickets are located in the student section. If you would like to sit with your student but they already have season tickets, you would have to purchase another ticket for them through our link.
If you have any questions about your tickets or the game, please contact the Athletics ticket office at 608-262-1440 or tickets@uwbadgers.com.
Mask Policy
In accordance with UW-Madison Covid-19 guidelines, all fans attending Badger home men's hockey games, and all Kohl Center events, will be required to wear masks at all times when inside the Kohl Center regardless of vaccination status, unless actively eating or drinking.
For your safety and the safety of others, Wisconsin Athletics asks fans to please stay home if they aren't feeling well.
Before and after the game
Wondering what to do before or after the game? Grab dinner at your student's favorite place to eat in Madison, or find a new favorite together with this restaurant resource. You can also find more exciting events, things to do, and hotel options on the Destination Madison website.
Parking
Please plan to arrive early to find parking and travel safely. Single game parking is available for purchase from lots with availability on a first-come, first-served basis on the day of the game only. Patrons wishing to purchase single game parking will pay the lot attendant as they enter the lot. See available lots and costs on the UW Men's Hockey Parking Map (PDF).
More parking and transportation information can be found here. You can also call campus information at 608-263-2400 with questions regarding parking near the Kohl Center.
*Please note: parking availability and access is subject to change. Please be aware of all signs and notices posted at parking locations and follow all displayed parking regulations.
Thank you to our proud event sponsors: