Event Details
In collaboration with Wisco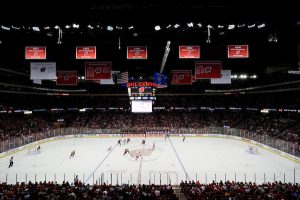 nsin Athletics, the Parent and Family Program is offering a discounted ticket price of $13 (regularly $24) for the Wisconsin Men's Hockey team as they take on the Ohio State Buckeyes at 8 p.m. on Friday, January 10th and at 7 p.m. Saturday, January 11th. These specially priced tickets are available online using our special link only. Families can purchase tickets until 4:30 p.m. on the day of each game.
Families who purchase tickets for either night will also have access to a special open house at Camp Randall Stadium on Saturday afternoon. The event includes cookies, warm refreshments, and a chance to explore places normally unseen on game days. Families will receive further details by email after purchasing their hockey tickets for either night here.
Wondering what to do between the tour and the game? Grab dinner at your students' favorite place to eat. This is a chance for you to spend time with your students and experience some of Madison's best restaurants.
Hotel Accommodations
If you are interested in overnight accommodations, contact the Lowell Center, located right on campus, for a special winter family event rate of $89 per night. The rate includes free parking, complimentary breakfast and high-speed internet. Please call 866-301-1753 and mention the promo code HOCKEY or make your reservation online.
*Please note that this offer is available for both 1-night and 2-night stays.
Questions? Need accommodations? Contact us at 1-877-262-3977 or parent@uwmad.wisc.edu.