At this time of year, many students are planning for summer, including subletting their campus-area rented rooms and apartments while they're away. Finding someone to sublet a student's rental might be a good option, but there are many considerations to keep in mind. Below are tips and information from Campus Area Housing for your student.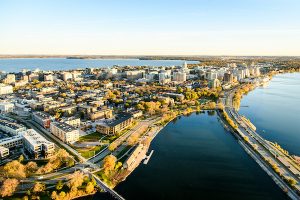 What is subletting?
Subletting is an arrangement among a current tenant (sublessor), a "substitute" tenant (sublessee), and the property owner/manager. A sublessee takes the sublessor's place and resides in the unit, paying either part of or all of the rent depending on the agreed upon arrangement.
Things to know when considering subletting:
Not all property owners/management companies permit subletting. Students should be sure to ask their management company/landlord if subletting is allowed and if there are any additional charges to sublet. For those property owners/management companies that do allow subletting, tenants should understand and follow their subletting process.
If there are other roommates in the rental, tenants should have their support. Roommates should feel comfortable with the new sublessee. They may be required to sign the sublet agreement. Roommates can be one of your student's best marketing strategies, helping to find a replacement roommate through their friends and contacts.
Tenants should advertise the sublet rental early and often, making sure it is competitively priced. Remember that paying a small part of the rent may be better than paying 100 percent of the rent when you're gone.
It is important to note that the original resident(s) and any co-signors on the original lease may still be responsible for timely rent payments and any damages through the end of the original lease term. Damages incurred by a sublessee can be taken from your original security deposit.
A written sublet agreement between the sublessor and sublessee should always be completed. If your property owner/management company does not provide one, an example can be found on the Tenant Resource Center's website.
For more information about the legalities and specifics of subletting, please refer to the Tenant Resource Center.
Ways your student can promote a sublet:
Students can advertise with

Campus Area Housing

by posting to the "

Subleases

" tab on their website for free. Students will need to use their NetID to post and search through the sublet listings. This helps protect against potential scammers and ensures that students are only connecting with others who are part of the UW–Madison community.
Watch out for sublet scams:
Remind your student to be aware of rental scams in Madison. Students trying to find someone to sublet their apartments are especially vulnerable. Here are a few tips to identify scams:
The email message will come by way of "bcc" or blind copy. This generally means that you were not the only recipient (they send these emails to hundreds of people at the same time).
The grammar and spelling may be poor.
The email will use broad terms, rather than specifics, about an apartment.
The scammer will offer to send more money than required. The money will be sent as a cashier's check, which the student cashes at a financial institution, wiring back the excess money. A few days later the bank will learn that the check is bad and will seek to recoup those funds from the student — including the money sent to the scammer.
If you are unsure if an email correspondence is valid, please forward the email to campusareahousing@uwmad.wisc.edu. The Campus Area Housing staff will be happy to review it and give you feedback.
You can find important advice under the Resources and Renter Education tabs on the Campus Area Housing website. The Rental Resource Guide overviews subletting on page 14.