UW–Madison's University Veteran Services office supports military-connected students by fostering personal transitions and the pursuit of academic success. Their office serves students in three key ways: education benefits, student success, and advocacy.
Recently, staff at University Veteran Services spoke with fourth-year student Lindsey Mathews. Lindsey's mother is Brigadier General Joni Mathews, Deputy Adjutant General in the Wisconsin Army National Guard.
Lindsey is a member of the Lac du Flambeau Band of Lake Superior Chippewa Indians and is majoring in Psychology and Environmental Studies with a certificate in American Indian Studies.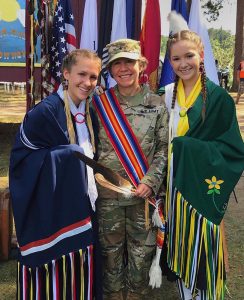 Q: To be a military kid, you must have a family connection to someone who has served or is currently serving. Can you share more about who the servicemember is in your life? How does that connection define how you describe your military connectedness?
A: I've had multiple servicemembers in my life, but the biggest connection is my mom, Joni Mathews. Despite growing up surrounded by family members in the service, I would define my connection to the military as being a military kid. My mom was born on the Lac du Flambeau Indian Reservation and is one of many Native women serving in the U.S. military. She is currently serving as the Commander of the Wisconsin Army National Guard and was the first female Native American General Officer in the entire Army National Guard. Before joining the Guard, she served 11 years on active duty and was a helicopter instructor pilot and maintenance test pilot. My mom is the best person I know, and I am always so proud to be her daughter.
Q: What do you think you've learned from being a military kid?
A: I've learned a lot! Alongside my mom I've attended multiple military ceremonies and events which taught me from a young age how to feel comfortable talking with people of all ages and ranks. I've learned how to be flexible and patient with my mom's quickly changing schedule, often with no notice, which has allowed me to be more patient with others. I've learned how to be independent and navigate problems without relying on somebody always there to help me, which served me well when I first got to UW–Madison. Most importantly being a military kid has helped me to cultivate empathy; you never know what a person has been through or is currently going through and you won't always know what a person's home life is like. From my mom, I have learned so much more. She's shown me that anything is possible with a strong will and hard work; that just because you're the first, doesn't mean that role isn't for you. She taught me that my voice deserves to be heard and to always fight for what I believe in. Growing up she would always say that "can't" shouldn't be in your vocabulary which taught me to always believe in myself and my abilities because there's nothing that I can't do. My mom has been such an amazing role model in my life, and I would not be the person I am today if not for her and the values she's instilled in me.
Q: What are you most proud of as a military-connected student?
A: As a military-connected student, I am most proud of the support provided by the Veteran Services office here at UW–Madison. Trying to navigate my educational benefits Freshman year was confusing, but they were always accessible and easy to talk to. I am thankful for the work they do and proud of the commitment they have for helping military-connected students.
Q: What do you wish more people knew about being a military kid?
A: I can't speak for all military kids, but in my experience growing up I wished more people understood how difficult it can be on family members, specifically children, of people in the service. It takes a real emotional toll and often forces you to grow maybe before you're ready. Now that I live on my own and don't so much identify as a "military kid", I look back on the lessons I've learned and am very grateful for how they've shaped me, but that doesn't mean that learning them was easy. I was lucky to be surrounded by supportive neighbors and teachers. One of my teachers would actually drive my sister and I to school since there was no bus system, but I know that not all military kids have that privilege. Having a support system of people who understand what you're going through emotionally helps a lot.