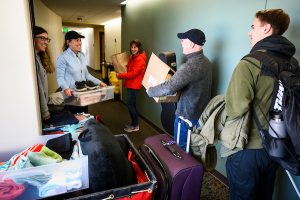 To help make the experience of move-out (May 7–May 15, 2022) as pleasant as possible and to avoid delays, encourage your student to begin planning and packing early. Students can send items home if they don't need them during finals — such as futons, TVs, chairs, shelves, winter coats, bikes, or mopeds — saving on trips and making loads lighter for their official move-out day. If this is not possible, then moving prior to commencement (May 13–14) will help you avoid the frustrations of limited parking and traffic congestion. If you must move out during the commencement ceremonies, please plan for extra time.
We ask that students vacate their rooms within 24 hours of their last final exam. Students staying until Sunday, May 15 must move out by noon.
Each year, University Housing helps students say goodbye sustainably by partnering with students, staff, and campus and community organizations to donate and recycle items they no longer need. Putting the Wisconsin Idea into practice, Sustainability Move Out enables you and your student to positively impact other Badgers and the surrounding community by donating your items rather than sending them to the landfill. Over 100,000 pounds are diverted from the landfill annually. Please join us this year in supporting the community by bringing such items to a collection location near your student's hall.
Students should check for specific information (such as a checklist to complete before leaving and directions to trash/recycling locations) that will be posted in the residence halls close to move-out week. For more about University Housing move-out week, visit the University Housing website.
If your student needs summer storage, Lazybones is an authorized service provider affiliated with UW–Madison offering storage and shipping. Lazybones can store students' possessions for the summer and deliver them to their new address in the fall, even before your student arrives. To use the Lazybones service, sign-up online, email wecare@mylazybones.com, or call 877-215-2105.