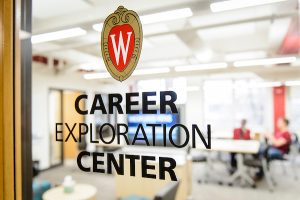 College is a time of exploration, and that includes major and career options. If your student is undecided, advisors tell us this isn't a disadvantage. In fact, college can be a great time for students to explore interests and learn more about themselves, which will help them make decisions on majors and career paths.
The Career Exploration Center (CEC) is here to help students during this process. CEC career advisors support students who are undecided about their career and/or academic goals. Any undergraduate student can explore their major and career options through in-person or virtual appointments, drop-in career advising, workshops, career assessments, online resources, and much more.
Students can find upcoming dates for virtual and in-person workshops at the CEC's website, which includes workshops like "How to Choose a Major" and "Exploring Careers Regardless of Major". Career advising drop-ins are held every Friday and are a great opportunity to learn about the variety of ways the CEC supports undecided students.
Majors don't always determine a career and your student's interests may shift over time, which is why meeting with a CEC career advisor can help provide clarity and direction. They can help answer questions like: How do I know if a major is a good fit for me? How do I choose classes if I am not sure of my major? I have some career ideas, but how do I pick a major to achieve them?
Additionally, each UW–Madison school and college also has its own career services office, which is tailored to prepare students in their respective fields for employment and graduate school.
Looking for more information about how to support your student while they learn about major and career options? Visit the CEC parent, family, and community page.