As midterms are beginning to ramp up and snow still on the way in Madison, students may be feeling homesick or need something to look forward to during this final winter stretch.
Save the date now to bring them some springtime cheer and enjoy the beauty of April in Madison together during our annual Badger Family Spring Visit.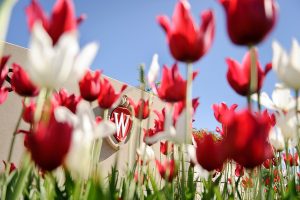 What is Badger Family Spring Visit?
Badger Family Spring Visit (BFSV) is simply an opportunity for you to visit your student any weekend during the month of April and attend free or low-cost events in Madison that our team of local pros has compiled for you. There is no fee to register— just come and enjoy time with your Badger.
You can find featured events and more information on our Badger Family Spring Visit page, which will continue to be updated with additional events as April gets closer.
That's it?
That's it! All you have to do is:
Connect with your student to pick a weekend during April to visit (make sure it's not before any big exams or presentations),
Browse through the featured events happening that weekend, such as sporting events, musical and theater entertainment, educational opportunities, shopping, dining, and more,
Let us know here that you're planning to visit (so that we can send you parking suggestions and event updates),
Watch out for an email from us at parent@uwmad.wisc.edu with info on how to download our mobile event app, build your own schedule, and sample weekend itineraries curated by our local pros,
Visit Madison and enjoy springtime with your Badger! You can also share photos of your weekend with us on social using #BadgerFamily for a chance to win prizes from the University Book Store.
For more information, call 608-262-3977 or email parent@uwmad.wisc.edu.
We hope to see you in April!
Thank you to our proud sponsors: