Last year campus rolled out the Course Search & Enroll app, a new and improved tool to make it easier than ever for students to explore classes and build out their semester schedules.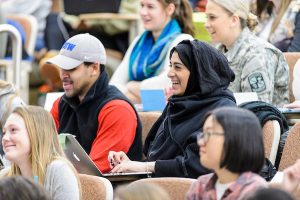 With over 9,000 courses available to choose from, a lot of careful planning goes on behind-the-scenes to make sure students have access to the courses they want and need. During the enrollment period, course availability is closely monitored, and throughout the year a campus committee reviews feedback, evaluates enrollment trends, and works with departments to plan for the upcoming semester.
At the same time, we recognize students (and their families) may have questions about the enrollment process. To help your student have a smooth and successful enrollment experience, here are a few tips we gathered from UW advisors:
Tip 1: Be flexible with availability.
Encourage your student to be open-minded with their availability. For example, don't limit availability to courses that only occur Monday–Thursday or that begin after noon (unless they have a direct conflict, such as a campus job or extracurricular activity to schedule around).
 Tip 2: Use waitlists and build alternate schedules.
If a class fills, students may add themselves to the waitlist if available, and then enroll in an alternate option. While we can't guarantee that every interested student will get into highly popular courses, our advisors will always work with them to make sure they have the classes they need to graduate and have a positive Wisconsin Experience!
 Tip 3: Plan ahead and see your advisor.
Sometimes students can miss small details that can have a big impact, like not realizing they need to take a prerequisite (a class that's required to take before taking a higher-level class). Encourage your student to check in with their academic advisor a few weeks before their enrollment time each semester so they can review their plan, make sure they're on track for graduation, and have time for bigger picture conversations.
 Tip 4: Ask for help if you get stuck.
While this is rare, if your student is having issues getting into a course they need to graduate advisors will always work with them to find a solution. If your student experiences this, direct them to reach out to their assigned academic advisor or the department that offers the class.
We hope these tips will be helpful as your student gears up to enroll in classes! We also included a few additional frequently asked enrollment questions below:
How can advisors help my student build a class schedule?
Each student has at least one assigned academic advisor for their field of study or in Cross-College Advising Service if they are undeclared and exploring their options.
Advisors help students think through their interests and goals – both what they want out of their college experience and what they want out of their careers – and apply that to a concrete academic plan. Then we can teach them how to use the resources available from the university to find those classes that best carry out this semester's part of that plan. We can also help students review their progress to make sure they're on track for graduation.
However, advisors can help with so much more than enrolling in courses. We also help students connect to activities that shape their entire college experience – like volunteering, service-learning courses, internships, study abroad, campus jobs, student organizations, first-year-interest groups, and more! Students should check in with their advisor(s) outside of the busy enrollment period to make sure they have enough time to talk through bigger picture questions.
— Charles Schleicher, Cross-College Advising Service Advisor
What should students do if the courses they want to take are full or unavailable?
Students should be prepared for the possibility that their first-choice course could be full. I always advise students to make a list of the courses that are required, or that they plan to take, and then to create alternate schedules. This way they will have multiple choices that allow them to still make timely degree progress while taking courses they're interested in.
Academic advisors can explain what to do if a course fills up quickly, or why some courses will open to students in certain majors or certificates first, and how to create multiple versions of their schedule with courses they want to take. Always remember: advisors are here to help!
— Megan McGarry, Academic Advisor/Study Abroad, Center for Educational Opportunity (CeO)
How do waitlists for courses work?
Once a class is full, students may have the option of enrolling on a waitlist. If a spot becomes available, waitlisted students will receive an email notifying them that they've been authorized to enroll (note that students still need to enroll by the deadline listed; being on the waitlist will not automatically enroll the student if a spot becomes available!) The email comes from the department offering the class and includes a deadline by which the student needs to enroll before the permission is passed on to another student.
Students can address course-specific waitlist questions to the department offering the class. Many courses have subject notes that provide contact information for enrollment-related questions.
— Katie Paar, Student Services Coordinator & Outreach Specialist, Office of the Registrar
How can my student pick out classes if they're undeclared or exploring majors/careers?
Advisors know the ins and outs of course requirements and can help students build a class schedule that allows them to explore their interests while still making timely progress towards their degree. With over 200 majors and certificates offered to UW students, sometimes the best way to narrow down the options, for both majors and careers, is to jump in and try out a few new or unique courses.
In fact, by taking a variety of classes related to their interests earlier, students are ultimately able to make more informed, and confident decisions about majors and careers later on. In addition to taking classes related to their interests, students have the added opportunity to take classes focused solely on career development as early as their freshman year (and throughout their final year!)
— Michelle Jackson, Career Exploration Center Advisor