It may feel like the spring semester just started and it's too early to start thinking about fall course enrollment. Many UW advisors may suggest otherwise. With over 9,000 courses to choose from, it can be helpful for students to begin thinking about and discussing their next semester courses with their advisor now.
This year, students will be assigned enrollment times for the fall semester throughout the week of April 4, 2022 and will begin enrolling in courses according to their appointment times on April 11, 2022. Find more key dates and deadlines on the Office of the Registrar website.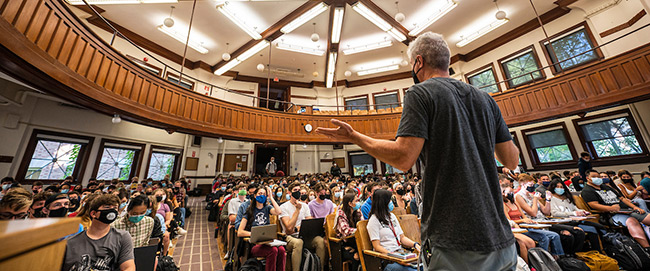 During the enrollment period, course availability is closely monitored, and throughout the year a campus committee reviews feedback, evaluates enrollment trends, and works with departments to plan for the upcoming semester.
To help your student have a smooth and successful enrollment experience, here are a few tips from UW advisors:
Tip 1: Be flexible with availability.
Encourage your student to be open-minded with their availability. For example, don't limit availability to courses that only occur Monday–Thursday or that begin after noon (unless they have a direct conflict, such as a campus job or extracurricular activity to schedule around).
Tip 2: Use waitlists and build alternate schedules.
If a class fills, students may add themselves to the waitlist if available, and then enroll in an alternate class option.
If a spot becomes available, waitlisted students will receive an email notifying them that they've been authorized to enroll (note that students still need to enroll by the deadline listed; being on the waitlist will not automatically enroll the student if a spot becomes available!). The email comes from the department offering the class and includes a deadline by which the student needs to enroll before the permission is passed on to another student.
While it is not a guarantee that every interested student will get into highly popular courses, our advisors will work with them to make sure they have the classes they need to stay on track for graduation.
Tip 3: Plan ahead and see your academic advisor.
Sometimes students can miss small details that can have a big impact, like not realizing they need to take a prerequisite (a class that's required before taking a higher-level class). Encourage your student to check in with their academic advisor prior to their enrollment appointment. Scheduling an appointment to talk with their advisor sooner rather than later can give them more time to think and prepare. Additionally, advisors' schedules can get very busy closer to enrollment time.
In addition to helping students enroll in classes, advisors help students think through their interests and goals – both what they want out of their college experience and what they want out of their careers – and apply that to their academic plan. They also help students get connected to activities that shape their entire college experience – like volunteering, service-learning courses, internships, study abroad, campus jobs, student organizations, first-year-interest groups, and more.
Tip 4: Ask for help if you get stuck.
While this is rare, if your student is having issues getting into a course they need to graduate, advisors will work with them to find a solution. If your student experiences this, direct them to reach out to their assigned academic advisor or the department that offers the class.
Learn more about advising and learning support resources at advising.wisc.edu.