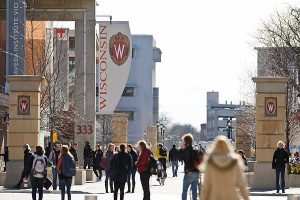 University Health Services (UHS) has introduced two new tools to support student mental health and well-being. In addition to these new resources, the no-cost mental health services at UHS include individual, couple/partner, and group counseling; campus-based programming; stress management; and psychiatry services. UHS also offer crisis services, which are available 24/7.
All students are eligible to use UHS services. Experienced, culturally competent professionals provide counseling for a range of mental health and personal concerns, as well as wellness services.
YOU@WISC: A new tool to build resilience and foster campus connections
YOU@WISC is a student connection portal with tools, content, and resources specific to UW–Madison student life designed to build resilience within students and foster campus connections.
Interactive modules within three overarching themes—succeed, thrive, and matter—engage students in many facets of life, including community involvement, mental and emotional well-being, and academic and professional success.
Each theme contains facts and tips, quizzes, Ted Talks, and connections to UW resources. After entering information, experiences, and interests, the themes customize to the user.
If students need guidance on which areas to focus, they can take a "Reality Check Assessment," which rates achievement and ability in each of the subtopics. This feature functions as a way to measure physical, mental, and emotional well-being, evaluate college experience, and help find purpose through meaningful connections.
There are also opportunities to set and track goals, and a goals archive to reflect on growth.
SilverCloud: An online mental health resource
SilverCloud provides UW–Madison students, faculty, and staff with accessible and confidential treatment options 24 hours a day. SilverCloud does not require a referral from a mental health or medical provider and there is no additional charge for UW–Madison students, faculty, and staff to access the program
In SilverCloud, clients can engage with four content paths that address depression, anxiety, stress, and body image.
Although SilverCloud is not designed to replace in-person mental health treatment for complex concerns, it is a time-flexible option that may be effective for students who experience mild to moderate symptoms. Each module lasts an average of 40 minutes and automatically saves progress, so the modules can be completed at one's convenience.
"SilverCloud provides an opportunity to access treatment for mental health concerns when it's most convenient for you," says Andrea Lawson, co-director of Mental Health Services at UHS. "It provides another tool for students to learn skills, reduce symptoms, and become able to function more effectively in the world."
Both YOU@WISC and SilverCloud are available for students to add as widgets on their my.wisc.edu dashboard. Questions about either program can be sent to silvercloud@uhs.wisc.edu.
For more information about UHS services, visit uhs.wisc.edu.
— Allison Chang, University Health Services