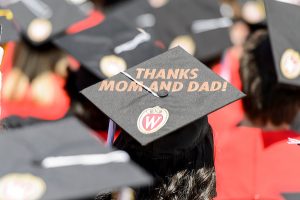 Congratulations to the students and families who will celebrate commencement this May! We are excited to celebrate with you and reflect on all your students have accomplished during their time here.
UW–Madison's spring commencement ceremony for bachelor's, law, and master's degree candidates will be held in Camp Randall Stadium at noon on Saturday, May 12.
Schools, colleges, and some academic departments will hold recognition events throughout commencement weekend, scheduled around the main ceremony, to allow graduates and guests time to socialize with deans and faculty members and to celebrate the achievements of the Class of 2018.
The commencement speaker is America's most-watched anchor, ABC News' David Muir. Muir is an Emmy Award–winning journalist and co-anchor of ABC's 20/20.( Learn more and watch his announcement at Times Square.)
Detailed information, including a letter from the Chancellor with ceremony details, a graduation checklist, and more, can be found on the Parent and Family Program website.
Visit the commencement website for details about the weekend's events, shuttle and parking information, the carry-in policy, and more. The commencement ceremony will take place rain, snow, or shine!
The Parent and Family Program can help with questions you may have about the commencement ceremony. Call us at 1-877-262-3977 or email at parent@uwmad.wisc.edu.