How can students find out how they are doing in their courses?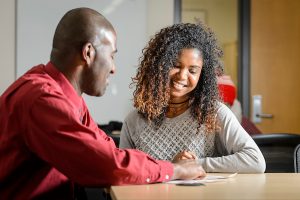 There are many ways students can find out how they're doing in their courses. The easiest option is for students to speak directly with their professors or TAs (teaching assistants) during office hours. Consistent communication with professors and TAs is key to helping your student stay informed and on track. For some students, utilizing office hours can be intimidating, but it's important to remember professors were once students, too!
Students can also calculate their grade based on the syllabus. Most syllabi give students a breakdown of how each assignment, quiz, exam, etc. is weighted into the final grade.
Finally, their academic advisors can connect them to resources to support their academic success—whether it's linking them to free UW tutoring resources, calculating how a course grade will impact their GPA, or talking through other concerns that may be impacting their academic abilities.
— Rachelle Eilers, Advisor, Chican@ & Latin@ Studies
How can my student find interesting courses that also fulfill requirements?
All degrees at UW–Madison require coursework across the academic spectrum, and UW–Madison offers classes exploring just about any interest imaginable—from creative writing to astrophysics, from plant anatomy to international relations.
If students have questions about how to strategically explore their interests while still making timely progress towards their degree requirements, meeting with an academic advisor is a great place to start.
Certain degree requirements are quite broad and leave considerable room for academic exploration, and it's important to keep an open mind and to be intellectually adventurous.
For example, to fulfill the biological sciences requirement in the College of Letters & Science, a student can take biology, but they can also choose from hundreds of other courses across a vast range of subjects, including botany, landscape architecture, nutritional sciences, and gender and women's studies. Students will find a range of possibilities for satisfying many other degree requirements.
— Jordan Berken, Advisor, L&S Academic Advising Service
What should students do if the courses they want to take are full or unavailable?
Students should be prepared for the possibility that their first-choice course could be full. I always advise students to make a list of the courses that are required for them, or that they plan to take, and then to create alternate schedules. This way they will have multiple choices that allow them to still make timely degree progress while taking courses they're interested in.
Academic advisors can also provide insight on what students need to know to best prepare for course enrollment. For example, they can explain what to do if a course fills up quickly, or why some courses will open to students in certain majors or certificates first, and how to create multiple versions of their schedule with courses they want to take.
Always remember: advisors are here to help students plan ahead for their enrollment date and time, to understand how to use course guides and information, to recommend course options, and to explore resources and tools for building a successful course schedule.
— Megan McGarry, Academic Advisor/Study Abroad, Center for Educational Opportunity (CeO)
How do waitlists for courses work?
Once a class is full, students may have the option of enrolling on a waitlist. Course sections with active waitlists are denoted within the program that students use to enroll. If spots become available for  waitlisted students, they will receive an email notifying them that they've been authorized to enroll. The email comes from the department offering the class and includes a deadline by which the student needs to enroll before the permission is passed on to another student.
The length of time students spend on a waitlist varies. In many cases, currently enrolled students need to drop the class before waitlisted students can be offered a spot. I encourage students to remain optimistic about their chances of getting off a waitlist, but also advise them to enroll in alternate courses.
Students can address course-specific waitlist questions to the department offering the class. Many courses have subject notes that provide contact information for enrollment-related questions. Academic advisors can also be a good resource for connecting students to departments if the student is unsure how to contact a specific department.
— Katie Paar, Student Services Coordinator & Outreach Specialist, Office of the Registrar
What does it mean to drop or add a course? How does that work?
Students have the opportunity to change the course registration for the term by adding or dropping classes by the appropriate deadlines. Any changes to a student's enrollment can be done through the new UW enrollment tool, the Course Search & Enroll app, or through the original enrollment tools available in their Student Center.
Students may want to add or drop a course if they find more suitable classes or need to reduce their credit load to focus on their other courses. Dropping courses can be a positive choice for some students because it gives them the opportunity to refocus and to prioritize their goals. Students may also find dropping a course helpful when trying to address health issues, stress, or other personal matters.
Students can find information regarding important deadlines on the Office of the Registrar's website.
Information about modular courses and deadlines are also available on the website.
— Tori Richardson, Assistant Dean, L&S Academic Deans' Services