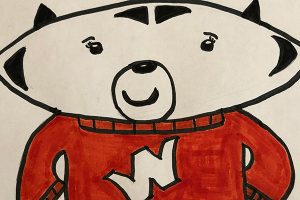 Thank you to everyone who joined us for Virtual Family Weekend 2020. We appreciated taking your questions, seeing your Bucky Badger drawings, and providing you with opportunities to engage with campus resources.
If you were able to join us, we'd love your feedback. Please take our survey, which will close on November 9.
Missed the live events? Not a problem! Our content is still available for you and your Badger Family to engage with any time. Visit our webpage to gain new strategies for well-being and connection, learn how to draw Bucky, or find out more about "Hamilton: An American Musical." We've also highlighted a few signature events below.
---
Welcome from Chancellor Blank »
Chancellor Rebecca Blank shares an overview of the latest happenings at UW–Madison.
---
Attending College During a Pandemic: The Mental Health Impact and How We Can All Help »
Director of Mental Health Services, Dr. Sarah Nolan, discusses mental health trends on campus, resources at UW, and ways that family and friends can support students during this unique time.
---
Learn How to Draw Bucky Badger with Wheelhouse Studios »
Taylor Franklin, Program Director of Wheelhouse Studios, teaches Badger Families how to draw Bucky Badger! All you need is a piece of paper, a drawing utensil, and a good attitude. Taylor breaks down the drawing lesson into easy steps for the whole Badger family to enjoy.
---
Life on Purpose: Three Questions Only You Can Answer »
Dr. Christine Whelan talks about how to do the next right thing in a time of uncertainty, and find purpose in your life during these trying times.
---
Insights from Vice Chancellor for Student Affairs Lori Reesor »
Vice Chancellor for Student Affairs Dr. Lori Reesor, shares her insights here as both as a parent of a UW–Madison student, and as an administrator and educator.
---
Strategies for Well-Being and Connection »
How do we support and affirm our students as they process all that has happened this year — from racial injustice to a global pandemic? How do students find community in a COVID-19 environment, whether they live at home or on campus? Campus experts share guidance and strategies from a trauma-informed perspective.
---
Hamilton: How a Musical About History is Making Musical History! »
Hear how the musical Hamilton is making history! With a soundtrack and script that fuses classical musical theatre and poetry with elements of popular music and hip hop, its storytelling both builds on the past and looks to the future.
---
Sponsor Spotlight