Welcome!
Thank you for joining us for Family Weekend 2020. We hope you find the content on this webpage to be helpful, engaging, and fun. Explore the offerings below and check out a variety of live events created just for you. You can also use the navigation section directly below to find information of interest.
We want to begin by sharing remarks from Chancellor Rebecca Blank. Since we are not able to gather in-person for our annual Chancellor's Welcome Reception, we hope you enjoy this video message for Badger families.
Let us know if have any questions by emailing parent@uwmad.wisc.edu. If you're not able to join us live this weekend, the content below will continue to be available to you afterwards, at the same links and here on this page.
We also invite you to share pictures and stories of whoever is in your #BadgerFamily with us on Facebook – whether that is chosen family, friends, parents, grandparents, or pets. On, Wisconsin!
Live Events
Join us for a variety of events and panels occurring Friday and Saturday. All events will be captioned live via a link in the YouTube video description, and all will be available for viewing any time after the event.
College of Letters & Science Honors Program Event
Date: Friday, October 16
Time: 4-5 p.m. CDT
Zoom Event Link: https://uwmadison.zoom.us/j/91871706283?pwd=RnMraFFJUHJPRldOWU1TWjhDWU9WUT09
Current Letters and Science Honors Program students and families – please join us on Friday, October 16 at 4 pm (CDT) for conversation and an information session held via Zoom. Honors Faculty Director Sabine Gross, Associate Directors Sara Stephenson and Matt Kohlstedt along with other Honors team members will explain opportunities the Honors Program provides, answer your questions, and offer details about any of the Program's aspects. This is a live event that will allow you to ask questions.
Please note that while students not currently enrolled in the Honors Program in the College of Letters & Science are able to join, this event will be tailored and most useful to those already in the program.
For questions and accommodations, please contact honors@honors.ls.wisc.edu.
Virtual UW-Madison Campus Tour
Date: Saturday, October 17
Time: 3:45-4:45 p.m. CDT
Event Link (Link will become live 30 minutes before the start of the event): https://us.bbcollab.com/collab/ui/session/guest/50e02606652b48c6bc42af31b829fcf1
Come join a few UW-Madison student tour guides on our newest virtual campus tour! On this tour, you will be guided through the vibrant city and campus and learn more about different sites, places, and how students enjoy spending their time in the city. Learn more about how UW-Madison is pushing boundaries and constantly growing as a place for research, athletics, and individual growth.
How to Join Session:
Blackboard is fully committed to ensuring all products and services we deliver are both usable and accessible to all users regardless of age, ability, or situation. For information, please visit https://help.blackboard.com/Collaborate/Ultra/Participant/Accessibility.
Open the link in your browser.
After the page loads, type your name and select Join Session.
If this is your first time joining the session, complete the audio and video set up and add a profile picture.
Best Practices for Best Experience:
Use a hard-wired (Ethernet) connection, if available, or a Wifi connection. If using Wifi, try to be as close to the router as possible.
Close other programs. Close all programs and streaming services on your computer except for the browser you are using for your Collaborate session.
Keep your browser current. Only use up-to-date Internet browsers that are supported by Blackboard Collaborate.
Limit video use. Use video during the session only when necessary.
Use supported mobile browsers. If on a mobile device, use a supported mobile browser. For the best experience, use Safari on iOS devices and Chrome on Android devices.
Use headphones. Cut down on the background noise and use headphones.
Disable Adblockers. Browser Adblockers can turn off your audio and video and can cause buttons to not show up.
Badger Talks with Veronica Rueckert
Veronica Rueckert, former host and producer of Wisconsin Public Radio's "Central Time," is the University of Wisconsin-Madison's National Media Relations Specialist. Before that, she hosted the state-wide call in program, "The Veronica Rueckert Show" and was a producer on WPR's Peabody Award-winning program "To the Best of Our Knowledge," distributed nationally by Public Radio International.
Learn more on the Badger Talks website.
Terrace Coloring Pages
Enjoy these downloadable Terrace-themed coloring pages created by Wisconsin Union artists. Click the images to download and print the coloring pages.
Cook with the Wisconsin Union
Missing some of your Wisconsin Union favorites? Wisconsin Union Dining at Home brings you step by step copycat recipes.
Ingredients
1 1/2 lbs of Store-bought Popcorn Chicken
1 tsp Vegetable Oil
2 tsp Garlic, minced
2 Tbsp Green Onion, sliced (divided)
1/2 Cup Soy Sauce
1/4 Cup Chicken Stock
1/4 Cup Ketchup
1/4 Cup Honey
3 Tbsp Light Brown Sugar
3 Tbsp Rice Wine Vinegar
3 Tbsp Sambal Olek Chili-Garlic Sauce
2 Tbsp Sesame Oil
4 tsp Cornstarch
2 Tbsp Sesame Seeds
Ingredients
2 sticks unsalted butter
1 cup granulated sugar
1/2 cup brown sugar, packed
1 egg
1 - 1/2 tsp vanilla extract
2 - 1/4 cups all-purpose flour
1 tsp Kosher salt
1 tsp baking soda
1/2 lb. bittersweet chocolate chips
1 cup mini marshmallows
Ingredients
1 cup of good quality Ranch dressing
1/4 cup of Sweet & Tangy BBQ Sauce
1/4 cup Mayonnaise
1/4 cup Ketchup
2 tsp. Adobo Sauce from Canned Chipotles
Music Performances
Enjoy these music performances from UW's Wisconsin Singers, the Madison World Music Festival, and the Wingra Quintet.
#FutureBadgers
Do you have #FutureBadgers at home? Take a look at these family-friendly events.
Celebrate curiosity at the 10th #WiSciFest, occurring October 15-18, 2020.
The four-day Wisconsin Science Festival features events from sites throughout Wisconsin.
Activities include hands-on science experiments, live Q&A sessions and interviews with scientists, demonstrations, performances, behind-the-scenes tours and more.
Join the Office of Admissions and Recruitment for their Virtual Open House, a multi-day event that offers prospective students and their families an opportunity to explore the schools, colleges, and resources available at the University of Wisconsin–Madison.
During the event, you'll have the opportunity to join various live sessions including housing, financial aid, academic information sessions, a virtual campus tour, admissions information session, a student panel, and a variety of interactive panels with programs and offices from across campus. Each session will include an opportunity for Q&A.
Creativity can't be quarantined and until we can be together again, try one of the Wisconsin Union's favorite at-home projects perfect for artists of all skill levels.
University Book Store Giveaways
Enjoy this 20 percent off use code for your entire online purchase.
And register to win a $100 e-gift card from the University Book Store!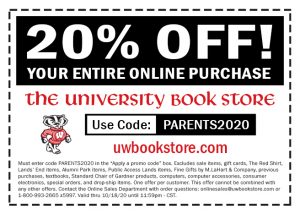 The Red Shirt
Nothing beats classic university style! This design features a fun retro script with a spirited swoosh — and a familiar face peeking through. Plus, 25% of every sale supports need-based student scholarships, courtesy of the Wisconsin Alumni Association. It's a fun shirt with a serious mission.