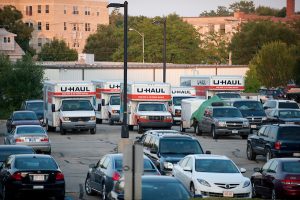 On August 14 and 15, leases for most campus and downtown rentals expire. That means thousands of students move in and out of their campus-area apartments and houses. Here are some ideas for supporting your student during this transition:
Students appreciate the help of friends and family. Offer to provide a helping hand, a vehicle, and/or storage during the moving process.
Allow enough time for loading and unloading. Ongoing road and building construction projects in the campus and downtown area may affect your timing.
Finding a place to park and unload can be difficult. Consider putting your cell phone number on your windshield so others can call if you have blocked access. If long-term parking is needed, check posted signs.
Be aware of management-office hours. If you try to move students out after the office closes, you may not have access to carts and other helpful moving necessities. If you try to move your student in, you will need to pick up keys and move-in information during office hours.
Encourage your students to complete the required check-in form upon moving in and keep a copy for their records. Renters should take photos of areas of concern, such as carpet stains or holes in walls. If the property owner or management company does not provide a form, download one from the Tenant Resource Center website.
Encourage your student to work cooperatively with the property owner or management company staff, notifying them promptly of any issues or concerns. Although you may want to help your students during this time, it is more beneficial to have your students make this contact because it allows them to build a working relationship with property staff.
Be patient and work with the property owner, management-company staff, roommates, and future neighbors to help the process go as smoothly as possible. Anticipate that some unexpected circumstances may arise.
Stay positive about your student's housing decision. Expect that your student's new home may not be perfect. Madison properties range from new to more than one hundred years old. In addition, it's likely that someone has just moved out of the residence and may not have left the place in the condition you were expecting or prefer.
Keep property safe and secure while moving and never leave valuables unattended. Lock all doors, including patio/balcony doors, and don't prop open building doors.
Donate: Drop-off sites, hours, and accepted items can be found at the City of Madison website.
For more information about the overall move-in process and the resources listed above, contact the Parent and Family Program.