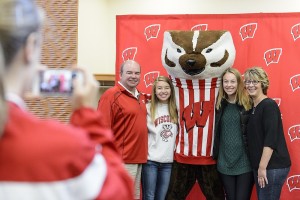 We look forward to welcoming your family this fall for Family Weekend, occurring October 12–14, 2018. From grandparents to siblings, Family Weekend gives the whole family a chance to see UW–Madison through the eyes of your student.
The weekend will feature a wide variety of programming options, including behind-the-scenes tours, a family photo shoot with Bucky, a chance to connect with professors and deans, a special event at the Chazen Museum of Art, music performances, and much more. Registration will open on July 23, 2018.
If you're interested in attending a football game this fall, Wisconsin Athletics provides parents and families an opportunity to purchase single-game tickets before they go on sale to the general public. Please note that there is no registration fee or additional programming, as the football game is the featured experience. Learn more on our website.
Please visit our Parent Events and Activities page for information about all of our event opportunities.