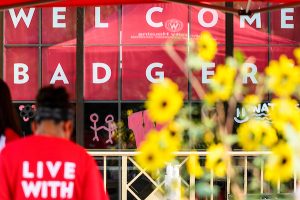 UW–Madison fall move-in is just weeks away! To help prepare for a smooth move-in experience, please partner with us to share the responsibility of keeping our campus healthy and safe. Each student receives an assigned move-in date and time, which allows us to spread out activity evenly to ensure available resources and parking. Students will have some ability to request a change if the assigned move-in date/time does not fit their schedule, depending on availability of open slots. Students can bring helpers during move-in, and per campus policy, anyone not vaccinated should wear a face covering and physically distance from others.
Testing Appointments
Students are fully vaccinated for COVID-19 do not need to be tested. Students who are NOT fully vaccinated will be required to be tested for COVID-19 on their move-in day and weekly throughout the school year. Students will receive more instructions from University Housing in August. The only exception is students who have previously tested positive for COVID-19 within 90 days prior to move-in. Vaccination records and previous positive test results can be submitted through MyUHS.
What to Bring
Valid government-issued photo ID (to receive your Wiscard)
Printed parking permit (available to download in the "Move-In" section of My UW Housing 2 days prior to your move-in)
Cell phone
Face coverings (if you are not fully vaccinated)
Bed sheets (twin XL, twin with extra deep corners, or jersey sheets)
Blankets and pillows
Water
Rubber mallet (to assist with lofting)
See what furnishings are provided and what Bucky would bring for additional items to bring and items that are not allowed
Wiscard Information
Enrolled students at UW–Madison are required to get a Wiscard (the official UW–Madison photo ID) that will allow them to access their residence hall, pay for items at dining markets and convenience stores, and use other campus services. Students should visit the Wiscard website to request their ID. If your student has questions, they should contact the Wiscard Office directly.
Important Note: requests must be received by August 23rd to ensure cards are available at move-in. Students will be given their Wiscard during move-in at no cost after presenting a valid government-issued photo ID if the request was received before the deadline.
On Move-In Day
At around 6:00 a.m. CDT on your student's move-in day, they will receive a reminder text to the cell phone number they have listed with University Housing. If a student is arriving by taxi or bus, they will go to their hall desk to check-in.
Step 1: Arrive at Your Entry Point
Entry points for each residence hall community can be viewed on our fall move-in map.
Step 2: Check In
After reaching the entry point and parking, students should take their photo ID or Student ID Number to the check in location. Staff will verify their identity, and check them in. Students will be given their room key, Wiscard, a moving cart, and a bag of giveaway items.
Step 3: Move In
Each student/family will have 90 minutes to move in from the start of the assigned move-in time. After 90 minutes, you must you move your car to long-term parking. Details on long-term parking options will be shared in August.
Step 4: Set Up Your Room
Beds will be set at half lofting height in most buildings and can be reconfigured in multiple ways by students. Staff will not be available to assist with lofting during move-in. If help is needed, students can request assistance via a maintenance request after move-in.
Step 5: Remove Trash and Recycling
To minimize touch-points, all trash and recycling should be removed from a student's residence hall room. Trash/recycling rooms will not be available on a student's floor during move-in.
Step 6: Get Tested for COVID-19 if Required
Students who are not fully vaccinated will be required to be tested for COVID-19 on their move-in day. Students will receive more instructions from University Housing in August.
Step 7: Connect to the Internet
To connect to UWNet, UW–Madison's wireless Internet service, simply select it from the list of networks and launch any web browser. Students will be automatically redirected to a registration page where they can enter their NetID information.
Questions and Additional Information
Find additional information about move-in from University Housing on their Moving & Breaks page. You or your student can also contact University Housing directly.