Dear parents and families,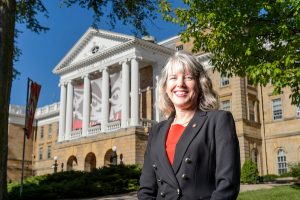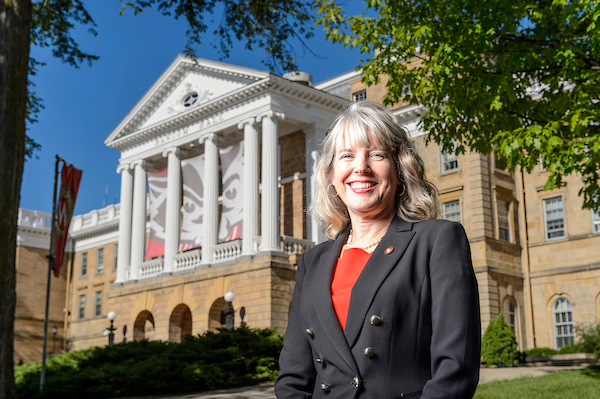 It can be both exciting and scary to see your student begin or continue their college adventure. This year, I imagine the excitement is a bit tempered, and fear of the unknown somewhat heightened. Whether your student is experiencing the semester on campus or from home this fall, and wherever you are guiding their success, we are here to support you.
As Vice Chancellor for Student Affairs, I oversee a variety of campus programs and services designed to help your student succeed both inside and outside of the classroom, including the Parent and Family Program.
We believe that parents are our partners and strongest allies, and we need your partnership even more as we navigate an ongoing pandemic. The success of our return to campus relies on every member of our Badger community stepping up to keep our campus safe and healthy. I encourage you to discuss the UW's expectations (Badger Pledge) with your student, model the behavior, and keep checking in with them. No one expects the pandemic to go on forever, but our best shot at making sure it doesn't is to do our part protecting each other.
The priority on our students' health and safety includes their mental and emotional well-being. We have many resources on campus to support our students. But trust your instincts. Reach out to the Parent and Family Program or Dean of Students Office with concerns, problems, or worries about your student or their peers.
Finally, we'll all need a good measure of resilience and grace this year. Here are a few coaching tips with your student:
Connect. Continue to ask your student how they are getting connected on campus and meeting other people. Encourage them to reach beyond their space to explore services and discover communities that support and challenge them in positive ways. This will be more challenging with the requirement to physically distance, but we will work hard to create opportunities for these important connections.
Support. Watch for signs of stress and keep expectations realistic. Remind your student to take screen breaks and move their bodies; to get a good night's sleep; and to be kind to themselves and understanding of others. Watch for signs of coping that may not be so positive as well – alcohol or other drugs, inactivity, or social distancing (as opposed to physical distancing).
Persevere. The college journey is not always easy nor does it go perfectly to plan. We want to see students succeed, but they will sometimes fail, too. Teach and model grit. Being resilient is about choosing to move forward rather than be sidelined by defeat.
Respect. Everyone deserves to be treated with dignity. Encourage your student to learn more about their own identity and culture as well as that of others. We must build a community where all students are treated with respect and where all those who are underrepresented feel welcome, supported, and safe.
Thank you for choosing UW–Madison. We know this year has presented many tough challenges and choices for families, and we are glad you'll be with us.
On, Wisconsin!
Lori Reesor, PhD
Vice Chancellor for Student Affairs
She/her/hers
UW–Madison Student Affairs
Health and Well-being: University Health Services and University Recreation and Wellbeing
Identity and Inclusion: Gender and Sexuality Campus Center, International Student Services, McBurney Disability Resource Center, Multicultural Student Center, Office of Inclusion Education (new in fall 2020), University Veteran Services
Leadership and Engagement: Associated Students of Madison, Center for Leadership Involvement, Office of Fraternity and Sorority Life, Wisconsin Union
Student Advocacy: Center for the First-Year Experience, Dean of Students Office, Office of Student Conduct and Community Standards, Parent and Family Program