Dear parents and families,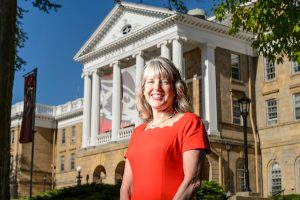 It feels so good to be writing you from a UW–Madison campus that is coming alive again. The warmth and joy on people's faces as they stroll campus and meet with friends or reminisce with loved ones has been encouraging to see.
We are eagerly planning and preparing, looking forward to welcoming your students to campus this fall with more opportunities for in-person engagement. These past 18 months have been filled with a lot of loss and heartache, whether due to the ongoing pandemic, racial and social injustice, financial stress — or any combination of the three. We know that's taken a toll and that students will be healing and adapting in different ways and at different paces when they arrive on campus.
As Vice Chancellor for Student Affairs, I oversee a variety of campus programs and services designed to help your student succeed both inside and outside of the classroom, including the Parent and Family Program. We believe that parents are our partners and strongest allies, and we are here alongside our academic colleagues to help coach and support your students through their time at UW–Madison.
A large part of this is ensuring students know how to find community, get involved, and be well — all of which contribute to their overall success.
Here are a few ways to help set your student for success as they transition to campus:
Finally, and always, thank you for choosing UW–Madison. We know this year continued to present many tough challenges and choices for families. While we're still navigating that course, we can see the horizon, and we can't wait for the bright road ahead.
On, Wisconsin!
Lori Reesor, PhD
Vice Chancellor for Student Affairs
She/her/hers