by Lori Reesor, Ph.D., Vice Chancellor for Student Affairs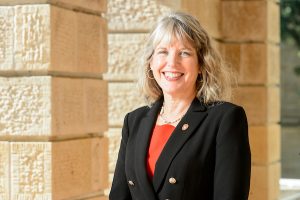 I was driving to campus the other day, and a news story about Generation Z caught my attention. I don't usually put much stock into generational comparisons — we've all had issues that have shaped us — but this one felt significant.
Our college students today have grown up with:
An attack on our nation on 9/11 that led to a 20-year war
The Great Recession of the late 2000s
School shootings and lockdown drills
A rise in racial justice activism
Social media as the norm
A global pandemic
Harvard University researcher John Della Volpe shared in the interview: "I don't think there's any generation in 75 years, since the Greatest Generation, that's been confronted with more chaos more quickly in their young lives than Gen Z."
That is hard to deny.
When we examine the conditions in which this generation has come of age, we see the mental health crisis many college students are experiencing today (one that you may have navigated alongside them) as a product of deeper societal issues. Our students aren't just responding to individual circumstances; they are spending their formative years, frankly, learning how to survive.
But it's not all doom-and-gloom. The flip side is that Gen Z has been conditioned to be resilient, to find solidarity in community, and they are determined to make positive change in their world.
So where does this leave us as parents, families, and college administrators? How can we help our students navigate the weight of the world around them while supporting them in becoming the engaged, global citizens we know they can be — and are?
I love thinking about that response through the lens of this quote from David Hogg, a student survivor of the 2018 shooting at Marjory Stoneman Douglas High School in Parkland, Florida: "Lasting change requires more than the resolve of young people — it requires a coalition across generations."
At UW–Madison, we are striving to create a community of care for all our students. And we need you as parents and families to support this effort. Here are a few ways to do that:
Let your student know you care. We all can relate to feelings of burnout and exhaustion — intensified by these past few years. Check in with your student to remind them you are there, perhaps you're feeling it too, and that you're rooting for them.
Presume goodwill. I admit that as a parent, when I have heard a concern from my children, sometimes my first reaction was to blame them or wonder how they got into the situation. I am constantly reminding myself at work (and at home) to presume goodwill. When approaching difficult conversations, lead with compassion and understanding while maintaining the boundaries and expectations that truly matter. That may take a patient ear and some reflection on our part.
Model grace, compassion, and kindness. Beyond talking with our students and encouraging them to take action through adversity, we can (and should) model to them what it looks like to live our values, too.
The context our students have grown up with is still very present — there will unfortunately always be trauma or some element of turmoil, and I know how hard this has been on us as parents. But the need to continue supporting our students during these important, formative times of their lives and the moments of care, goodwill, and grace are those that will sustain.
Take good care, and please remember that we are here for you and for your students.
On, Wisconsin!