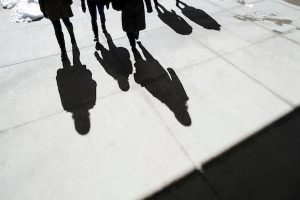 College is often referred to as "the best four years of your life." But it's important that we do not overlook the challenges students face during this intense time of transition and growth. Combined with developmental changes in the young adult brain, stressors like academics, relationships, and finances can increase college students' risk of developing depression or other mental health problems.
Parents and family members play a crucial role in promoting students' mental health and wellness. While it is normal for students to experience stress, there may come a time when you are concerned about your student's mental well-being.
If you become concerned, it is important to intervene. Having a conversation with your student about mental health might seem uncomfortable, but showing your support and concern can help immensely.
Express your concern. Avoid accusatory language. For example, say, "I am worried because I noticed you seem to be drinking more than usual lately. Is everything okay?" instead of, "You have been drinking too much lately."
Ask directly about suicide. Many people fear that asking, "Have you had any thoughts about suicide?" will give others the idea or push them over the edge. Research overwhelmingly shows that this is not true. Asking about suicidal thoughts/plans saves lives.
Talk to your student in a way that invites open and honest communication. Avoid close-ended questions. For example, say, "I noticed that you've been mentioning how hard things have been lately. How are you doing?" instead of, "You're not thinking about doing anything stupid like hurting yourself, are you?"
Don't judge, argue, or act shocked by your student's responses. Doing so puts distance between you and your student.
For students who are feeling stressed, anxious, or lonely, group-counseling sessions may be helpful. In these sessions, groups of six to eight students meet regularly with a counselor throughout the semester to focus on building resiliency skills such as how to manage stress, get better sleep, find support, and interact more effectively with peers. There are also groups that focus on a particular theme, such as recently experiencing a loss.
University Health Services (UHS) also offers resources for stress relief and stress management and personal wellness.
The following are free mental health services for students offered by UHS:
Individual and Couple/Partner Counseling
Group Counseling
Psychiatry Services
Crisis Stabilization Services
Referrals
Specialized Services (substance abuse, eating disorders, gender-identity concerns)
24-Hour Mental Health Crisis Services
SilverCloud, an online, self-guided, interactive mental health resource that provides students with accessible treatment options 24 hours a day.
The physical distance between you and your student may make you feel helpless during difficult times, especially if your student is not openly communicating. Please know that the Parent and Family Program, Dean of Students Office, and University Health Services are all here as resources for you and your student.