UW–Madison's Summer Term can help your student meet academic, professional, and personal goals, with all the bonuses of a summer in Madison: music on the Terrace, farmers' markets around Capitol Square, and much more.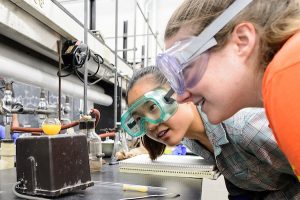 During Summer Term, students can focus on difficult classes without juggling a full fall or spring workload, or complete prerequisites for future courses. Summer courses can free up time in fall and spring for unique opportunities such as study-abroad programs and internships, without delaying graduation.
Students can customize their Summer Term to work for them. Three-, four-, and eight-week sessions allow students to align courses with their other summer plans. For example, the early four-week session starting May 21 enables students to complete up to four credits and still have the rest of the summer free. Students can also choose from more than 200 online courses and learn from anywhere.
Courses are available to help students build career-oriented skills. Some examples include:
A design-thinking course will have students across disciplines working together in the UW Makerspace, learning how to collaborate and be effective designers.
An unmanned aircraft course will give students in-depth experience with drone operations, including an option to obtain federal certification as a drone operator.
A business course for nonbusiness majors.
Financial assistance is available for Summer Term. Eligible students can apply for the Undergraduate Scholarship for Summer Study. More than 600 students received this scholarship in 2017. Students can also use remaining financial aid to cover summer tuition. And when students enroll in Summer Term, they can take nine credits for the cost of six.
Enrollment for Summer Term opens April 2. Visit the Summer Term website to learn more about courses, programs, fees and scholarships, housing options, and summer jobs available to your student.