Are you ready to equip your student for a successful and thriving fall semester? The Parent and Family Program invites you to our upcoming Badger Family Forum on September 8 from noon – 1:00 p.m. CDT, where we delve into insightful discussions with campus experts and provide valuable tips to support your student.
The transition to a new school year can be both exciting and challenging for students as they settle into their new routines and academic pursuits. September's Badger Family Forum addresses the key topics that often arise during this period, ensuring that your student has the tools and knowledge needed to excel and enjoy their time on campus.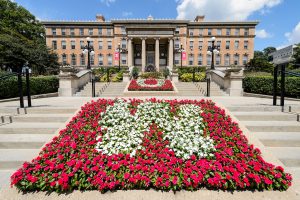 Below you'll find the discussion topics we plan to cover, and don't forget to submit your questions in advance, as well.
Navigating Academic Support Services: Discover the array of resources available to students, from tutoring services to study groups, ensuring they have the academic assistance they need to succeed.
Thriving in Classes: We understand that some students might face challenges with their coursework that they haven't experienced before. Panelists will share effective strategies to overcome obstacles and excel in their studies.
Harmonious Roommate Relations: Roommate dynamics can play a significant role in the overall college experience. Learn effective communication techniques and conflict resolution strategies for a positive living environment.
Securing Future Housing: Get a head start on understanding the process of arranging future housing, whether on or off campus.
Getting Involved: Involvement in campus activities enhances both personal and academic growth. Discover opportunities for your students to engage, connect, and make the most of their time at UW-Madison.
Building a Supportive Community: A sense of belonging is essential. We'll discuss ways for students to meet friends, create lasting connections, and build their own community away from home.
Don't miss this fantastic opportunity to equip your students with the knowledge and tools they need for a successful fall semester. Our panel of experts will be on hand to answer your questions and provide insights. These events are streamed to the Parent and Family Program Facebook Page and YouTube channel. If you can't join us live, the sessions are always recorded and available for you to view at any time. Live, professional captioning is provided. Submit your question here or contact the Parent and Family Program.