By Lori Reesor, Vice Chancellor for Student Affairs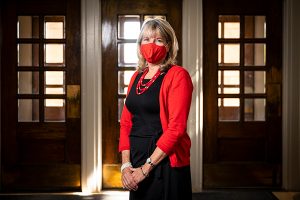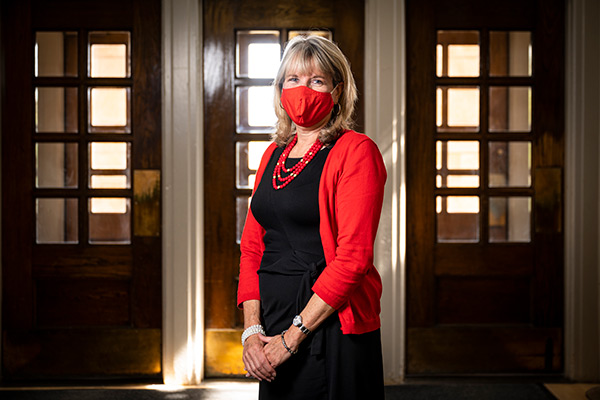 It struck me the other day that it has been one full year since we began calling COVID-19 a pandemic in our state, packed up our things, and moved residence hall rooms, our offices, and classrooms home — uncertain how the virus would affect our lives and our way of life. I never thought we'd still be battling the pandemic together a year later, though back on campus in limited capacity, still physically apart. I continue to be amazed by the resilience of our students.
They have come a long way, persevering through fall semester, changes to campus operations and courses, and into a new testing regimen this spring. Who ever thought that "pooling your drool" would be a coveted skill? They're taking it in stride, and I have hope in the positive steps we've taken as a community to curb the spread of the virus. Please continue to encourage your students to practice safe behaviors — limit social gatherings, physically distance, wash their hands, and wear a face covering (even if their Badger Badge is green).
Our students wouldn't be where they're at now without your support — and neither would we. You've asked good questions, advocated for your students, trusted the process, shared resources with them — even (and especially) during times that have felt uncertain or frustrating. I know how hard this is. I'm walking it with you as a Badger parent, too.
It's amazing to see what we've accomplished together. The new testing program is going well. We're averaging close to 6,000 tests per day on campus! Our goal in starting this program was to quickly identify and isolate students and employees who test positive to prevent community spread. Increased testing allows us to do this so we can keep our community safer from the virus.
We're hearing that students appreciate what regular testing means for those taking in-person classes and using campus buildings and resources. I've actually enjoyed exploring the different test sites on campus to see spaces I might not typically visit and discover things like the pink Thunderbird in the Mechanical Engineering building, streaming dance music in Dejope, or simply feel closer to Wisconsin Athletics at the Kohl Center. It's been wonderful to see many students taking on new responsibilities serving their peers as Badger Wellness Ambassadors, test site technicians, and in the residence halls (you can read about a few of them here, here, and here.)
We know our students want more in-person experiences — we want this too! While we're not fully back in person (there are still restrictions on campus gatherings), we've got more than just COVID testing happening outside the classroom. Throughout February, the Black Cultural Center has been exploring the evolution of music in the Black community in celebration of Black History Month. The Wisconsin Union continues to offer creative events through the student-run Wisconsin Union Directorate; our student organizations are finding ways to engage virtually; Rec Well is offering opportunities to work out virtually and safely in person; and there are more opportunities every day to engage. Keep encouraging your students to try new things, to meet new people safely, and to explore ways they can get involved.
If this is your student's first year at UW–Madison, like mine, we know they have felt a sense of loss in not being able to fully explore the campus culture or build relationships with as many people. We are in the planning stages of developing programming for our rising sophomores this fall to include some larger events and social opportunities to recreate traditions they may not have experienced this year. We want our students to feel a sense of belonging, and we certainly don't want them to miss the quintessential Badger opportunities we love. More to come.
Finally, I'm excited to share that we'll be presenting UW–Madison's first Mental Health & Wellbeing Summit, March 11­–12, 2021, a series of virtual workshops and activities for students to take a break and care for their mental and physical health. This will be a time for students to focus on healthy behaviors related to nutrition, exercise, sleep, and managing their time. The Parent and Family Program will be sharing more soon about a follow-up session on ways you can best support your students' (and your own) mental health and well-being.
Our nation has experienced a tremendous amount of turmoil this past year. In addition to the pandemic, the impacts of social and racial injustice, financial hardship, and their snowball effects have taken their toll on our students and, undoubtedly, on many of you as well. Remember we are here to help your students succeed — to feel welcome, supported, and safe. We've communicated to them some resources available to help meet their basic needs and mental health and well-being here on campus. Remember the Office of Student Financial Aid can work with students if their circumstances change at any point throughout the year as well.
This is an extraordinary time, and you have extraordinary students rising to meet these challenges together with our campus community. Thank you for continued grace and partnership in helping your students shine through this.
On, Wisconsin!