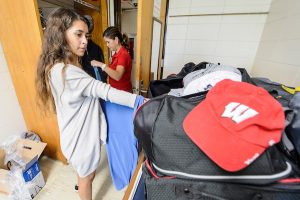 Your students may have already started talking with you about where they might live next fall. The subject of future housing is often brought up early in the academic year, in part because campus-area property owners and managers begin contacting students about next year's fall vacancies as early as August or September. These ads, paired with campus culture, propagate what is often referred to as the "Fall Rush Myth" — a myth that students need to decide as early as October, and no later than November, where they will be living next fall, or there will be no openings left.
This myth is simply not true.
We encourage first-year students not to rush into their second-year housing decision. Throughout fall semester, new students are still acclimating to their current living arrangements, as well as to the campus. They continue to meet new people, and their friendships are evolving. Students should make an informed choice considering all these influences without feeling pressured into a lease or a contract, and should not feel concerned about losing out on housing altogether. In fact, many housing options will remain available well into the spring semester.
University Housing is always a good option for second-year students, whether they're returning to the residence halls or moving to University-owned apartments in The 100s at Eagle Heights. Both current on-campus residents and off-campus students are given priority to select the specific rooms they want to live in, as well as the option to choose a group of spaces with their friends. A variety of options are available, ranging from single rooms to suite-style units in a wide variety of locations across campus, as well as one-bedroom and two-bedroom apartments.
Because first-year students are still establishing friendships, University Housing also offers flexibility to switch halls, rooms, or roommates if situations change. Learn more about the benefits of returning and the 2020–21 contract process on University Housing's website.
Students may choose from a wide range of campus-area options, such as apartments, houses, suites, roommate vacancies, and cooperative living arrangements. Students who choose to live off campus are encouraged to use UW–Madison's Campus Area Housing Listing Service, which features a consolidated, searchable list of campus-area rentals from property owners and managers, both big and small. Please note that the university simply hosts this online domain for rental vacancies and does not inspect or endorse any of the rental units. Campus Area Housing staff members also provide housing search tips, and they are happy to answer questions by phone, email, or in person.
UW–Madison recognizes that students have many living arrangement options, both on and off campus. Encourage your student to attend the Student Housing Fair, happening today, Monday, October 14 from 3 to 6 p.m. The Student Housing Fair is hosted by UW's Campus Area Housing and includes University Housing, local property management companies, and campus and community partners. Students can talk to representatives, learn about housing options, and ask questions as they begin to think about making an informed decision.