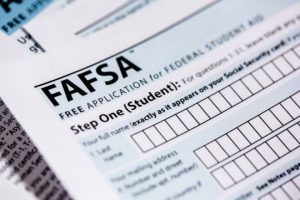 The 2020–21 Free Application for Federal Student Aid (FAFSA) is now available. Every eligible student is encouraged to file the FAFSA. Even if you believe that your student will not qualify for federal financial aid, many scholarships and grant programs still require a FAFSA. If your student will be graduating this year — congratulations! — graduating students only need to submit a FAFSA if they plan to continue on to another degree program.
Helpful FAFSA Filing Hints from the Office of Student Financial Aid:
We are here to help!

We're hosting a FAFSA Frenzy from noon until 2 p.m. almost every Friday throughout the fall semester. Visit financialaid.wisc.edu/frenzy to see the dates and locations.  Students just need to bring their laptop; we'll bring people to help answer questions, and food!
Students can find an advisor during our "Around Campus Office Hours" for one-on-one help — visit the Today@UW calendar for dates, times, and locations. Students can also schedule an appointment with one of our advisors by using the Starfish tool in their MyUW portal.
If you have questions about the process, please contact our team by phone at 608-262-3060 or email at finaid@finaid.wisc.edu.

Don't wait: Submit the FAFSA by UW–Madison's priority date — December 1, 2019

This ensures that your student will be considered for all available types of financial aid.
The 2020–21 FAFSA will use 2018 Federal Income Tax Return information.

File online: fafsa.gov

Be sure to enter our school code 003895 for the "University of Wisconsin–Madison" to have your FAFSA sent to our team.
Looking for Scholarships?
Encourage your student to attend the UW-Madison Scholarship Fair on October 22 at Memorial Union. Students will learn how scholarships work and how to be a competitive scholarship applicant. SuccessWorks and the Office of Student Financial aid will also take free professional headshots and host a resume and FAFSA workshop. Breakout sessions will be held all afternoon, covering topics such as financial aid, student employment, leadership involvement, and more.
Explore all awards and tell your student to log in to the new Wisconsin Scholarship Hub (WiSH) to match to scholarship opportunities that are right for them. Scholarship applications for continuing students are available to complete throughout the year. Deadlines vary, so remind your student to starting looking now.