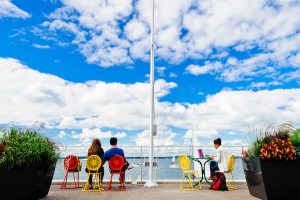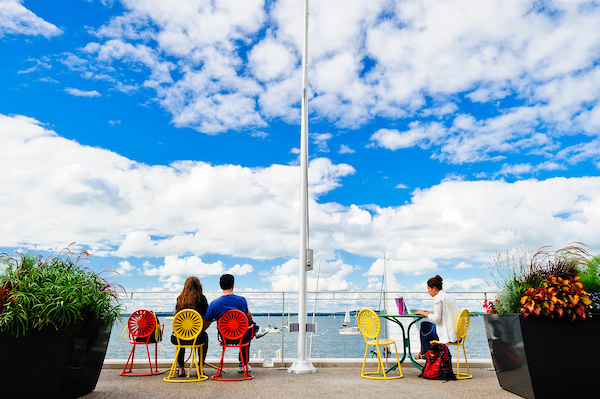 Summer has arrived and is in full swing! Students are enjoying the sunny weather and trying to get the most out of their break: swimming at the beach, reuniting with high school friends, concerts in the park, catching a summer blockbuster, and … résumé building?
"Summer break is actually the perfect time for students to do things like career exploration, networking, self-reflection, and résumé building," explains Claire Peters, a career advisor with the Cross-College Advising Service. She points out that while students are concentrating on midterms, papers, and other commitments during the academic year, they may have fewer distractions during break.
In her role as a career advisor, Peters helps students think about how they can take advantage of the summer months. Below are her responses to common questions she receives about career exploration and development over summer break.
"How do I build my résumé when I'm just waiting tables?"
Whether your student is working in retail or lifeguarding at the pool, there are always transferable skills to be gained. "Maybe they're learning organizational skills, communication, team-building, or time management," Peters says, "which are all skills that employers are looking for."
She adds that students can also use this time to do some self-reflection. "They can start by asking themselves what they like and don't like about different aspects of their job," she suggests, pointing out that this isn't something they have to figure out all on their own. They can still make an appointment with an advisor over the summer (and most advisors also conduct phone appointments if the student doesn't live in the area).
"But I just went back to the same old summer job I do every year."
Students may see this as a rut, but Peters sees it as an opportunity to grow leadership skills. "Maybe they returned to the same summer camp for the third year in a row," she says. "That's wonderful! They can talk to their supervisor and express interest in increasing their responsibilities for this summer or next summer if they plan on returning again." She adds that qualities like commitment and increased leadership look great on a résumé.
"I'm working 40 hours a week. I have no time for anything else!"
"Sometimes students get discouraged about using this time to explore careers through volunteering or job shadowing if they feel like they're swamped," recognizes Peters. If this is the case, she recommends looking for one-time volunteer opportunities that are just for a few hours or on the weekend. She reminds parents that volunteering is a "great exploration tool" and it's also a way to confirm that students are on the right career track. The following sites offer places to get started:
"Should I try job shadowing or informational interviews?
"Both!" says Peters. She explains that job shadowing allows students to observe what the average workday looks like in a particular field and to ask questions, while informational interviewing is an opportunity to have a discussion with a professional in a field that's interesting to your students.
She cautions that students should familiarize themselves with the etiquette for both of these opportunities. "This is not the time to bring out your résumé, unless they ask to see it," she stresses. "You're there to learn and ask questions, not to ask for a job." (For more tips on informational interviewing, read the Career Exploration Center's worksheet.)
"But how do I even begin to network? I don't know anyone!"
Peters understands that this can be intimidating for students, but notes that their worry can stem from an inaccurate idea of what networking is. "Students sometimes think it's walking into an office with some business cards," she explains. Instead, Peters suggests that students look for more natural connections by asking themselves if they know anyone who's doing something interesting. For example, she says, "Maybe your best friend's mom works as a marketing consultant or your cousin just got a job at the Department of Natural Resources. Start with who you know."Peters also encourages students to create or update their LinkedIn profiles, which can help them connect to alumni.
Another great – and slightly more exclusive – resource for connecting with alumni is Badger Bridge, an online professional network for UW-Madison alumni and students created by the Wisconsin Alumni Association. Students can search by major, industry, location, and much more to connect with alumni who can answer questions, provide mentorship, or make introductions.
All work and no play …
While the summer can be a great season for students to learn more about themselves and the world of work, "it's not all about getting ahead," says Peters, voicing her concerns about students who take on too much. "Learning to balance your work life and personal life is an essential skill." While she hopes that her tips are helpful, she urges parents to make sure their students also make time for fun, friends, and of course, family.
Students can connect to career events, jobs, internships, and on-campus interviews with Handshake, UW-Madison's new and improved online recruitment tool. For more information about undergraduate advising resources, visit advising.wisc.edu.
— Jaime Kenowski, Office of Undergraduate Advising