Registration is now open for Family Weekend: UW–Madison's signature event for Badger parents and families. Take a look at last year's fun and read five more reasons to register for an event that has your name written all over it.

*P.S. Scholarships for Family Weekend registration fees are available! Just contact us at parent@uwmad.wisc.edu for more information.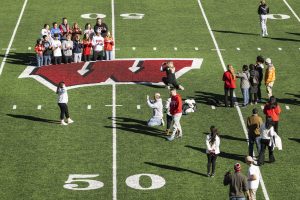 Have a scheduled reunion to look forward to:


With

University Residence Hall move-in

already here, it can be totally normal for you (and your students!) to experience feelings of sadness, anxiety, or uncertainty during this time. Having a set event on the calendar to look forward to can help remind you that it's not "goodbye," but rather "see you again"…at Family Weekend. 

Get a family photo with Bucky Badger:
Whether you need a holiday card photo, new profile pic, or just want to commemorate time spent with family, there will be plenty of dedicated times for Family Weekend participants to smile for a picture with UW-Madison's iconic mascot.
Experience Camp Randall football stadium from the 50-yard line:


Make a dream come true and join us on the home turf of the Wisconsin Badgers football team. Have your phones or disposable cameras ready because staff will be available at various locations around the field, such as the endzones and "W" logo on the 50-yard line, to take your family photo.

Cheese walk, ride, roll and shop on State Street:


Did you know that Wisconsin is called "America's DairyLand?" L

earn more about local dairy farmers and taste test award-winning, Wisconsin-made cheeses all while you enjoy specials at downtown businesses as part of the Wisconsin Specialty Cheese Walk on State Street.

Enjoy your very own Badger Family Fest(ival) at the iconic Memorial Union Terrace:


From a cookout-style lunch and Babcock ice cream made right on campus, to yard games, live music, and Wisconsin-themed crafts with Wheelhouse studios, Family Weekend participants have access to all of it with their registration.