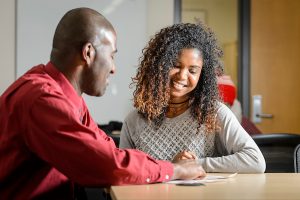 Summer is a good time for students to reflect on both their academic and career plans. Every student is encouraged to work with a career advisor to explore post-graduation options, no matter where they are in their academic career. First- and second-year students who are not sure what careers they would like to pursue or how to get started are encouraged to visit the Career Exploration Center. Career courses are also available and can help ground students in career development. Each UW–Madison school and college has its own career services office, which is tailored to prepare students in their respective fields for employment and graduate school. To learn more, visit careers.wisc.edu.
How can a career advisor help my student?
Career advisors can work with students at all stages of the career development process. Even when students have many different career interests, advisors can help them reflect on their skills and interests so they understand how those can be applied to the work world. Career advisors also create plans to advance a student's interests through hands-on experience. Providing these resources helps students find their way to satisfying careers.
How can my student find a career advisor?
Students should start at careers.wisc.edu, which connects them to their academic school or college's career services and advisors. For students who are undecided about their academic major(s) and career interests, the Career Exploration Center offers individual career assessments and advising.
Is career advising required? Does my student have an assigned career advisor like the assigned academic advisor?

While students are not required to meet with career advisors, it is highly encouraged. Additionally, students can start a conversation with their academic advisors about career interests. Academic and career planning go hand in hand.
When should my student see a career advisor?
Students should start thinking about career and internship options and opportunities as early as the first year of college. The Career Exploration Center can help students looking
 to start the career planning process or learn which career development resource on campus is best for them. Students nearing graduation will be best served by the tailored career services offices in the schools and colleges.
My student hasn't picked a major yet. Can a career advisor still help?

In a word: yes! For many students, ideas about their careers, academic and personal interests, strengths, and values are interrelated. Learning about one of these areas can help clarify or reinforce a student's understanding of another. Learning about the connections between majors, skills and interests, and careers can help students understand the different paths of the college experience.
Can a career advisor help my student find an internship?
Internships help students position themselves for potential full-time job offers after graduation. Career advisors can help connect students to internship opportunities. In addition, career advisors provide guidance by sharing resources and information about the job and internship application process.
How can my student network and find career opportunities?
Students can find jobs, internships, and connect to campus career centers and events through their free UW-Madison Handshake account. The Handshake app is available on the MyUW dashboard – students can add the app by visiting my.wisc.edu.
Badger Bridge, a professional network supported by the Wisconsin Alumni Association, connects students and recent graduates to established UW alumni for professional advice, support, and opportunities. Throughout the year, UW-Madison also offers career and internship fairs, as well as networking events with employers and alumni.