As we approach the end of the fall semester, Winter Commencement is just two months away. We are excited to celebrate your graduates on Sunday, December 18, 2022 at 10:00 a.m.
Comedian Charlie Berens has been announced as the winter commencement speaker. He is a New York Times best-selling author, an Emmy-winning journalist, a popular podcast host, and the creator of "Manitowoc Minute." He also earned a bachelor's degree from UW–Madison in journalism and geography in 2009. Read more in this new release and watch a video message from Berens.
To help you prepare for commencement, below you'll find key event details, as well as information on applying to graduate, cap and gown rentals, graduate seating, and more. Please remind your students that today is the last day to apply to graduate.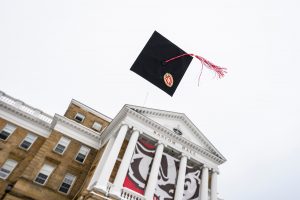 Key Details
Doors open at 8:00 a.m., graduates are asked to be seated by 9:40 a.m. Please note the ceremony typically lasts approximately 2.5 hours. A livestream of the ceremony will be available here on YouTube.
Guests, family members and friends are welcome to attend. There is no ticketing for attendance and seating is general admission, first come, first served. Anyone needing accommodations should meet with Guest Services at Gate A for assistance. If your graduate is in need of accommodations, please have them email commence@chancellor.wisc.edu.
Graduate names will be read as candidates cross the stage. A name card will be located on each graduate's chair when they arrive. We ask that graduates print their name phonetically, how they would like it pronounced, so that our name readers are accurate. A graduate seating map will be shared closer to the ceremony.
Each graduate will receive a diploma folder from their dean as they cross the stage. Diplomas will be mailed out to graduates 6-8 weeks after grades are entered. Please be sure your student updates their home address in MyUW so that it reflects where they would like their diploma mailed.
No guests, including children (with the exception of nursing mothers) are permitted in the candidate seating area. No food or beverages of any kind are permitted. Please review the carry-in policy as well as the metal detector procedures to plan accordingly. Flowers are allowed inside the Kohl Center, however glass containers, balloons, backpacks and wrapped gifts are not allowed.
Applying to Graduate
The deadline to apply to graduate is today, October 28th, 2022. Applying to graduate by the deadline ensures that your student's name will be included in the official Commencement Program. Students wishing to have their name listed in the commencement program with diacritical marks can email commence@chancellor.wisc.edu and request for those marks to be included.
Cap and Gown Orders
Orders should be placed by November 19th to receive discounted pricing. Orders can still be placed after November 19th, but for an additional late fee, up until the day of commencement. Graduates facing financial hardship, who cannot afford to rent their academic attire, can request scholarship funds by submitting an application to cover the costs associated with renting a cap and gown. Scholarship requests need to be submitted by November 18, 2022 in order to be considered for approval. Read more about attire.
Graduate Seating
Graduates should enter the Kohl Center arena at Gate A (W. Dayton St. entrance). Candidate seating is arranged by school, college or degree type. Commencement Marshals wearing cardinal red academic attire will be available to assist graduates with seating. Degree candidates with faculty escorts should ask their faculty escort to sit on their right. A graduate seating map will be provided closer to commencement.
Find information on accessibility, communications, parking and shuttle information, photography, and more on the Winter Commencement 2022 webpage or at commencement.wisc.edu.