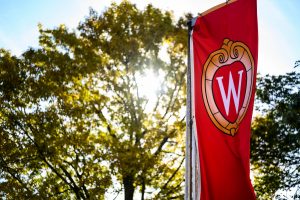 Save the date for Family Weekend 2020, which will be offered in a free, virtual format from Friday, October 16–Sunday, October 18. While we will miss meeting you in-person this fall, we look forward to providing new, engaging opportunities that connect you to UW–Madison, and keep you, your students, and our community safe.
We have based our Family Weekend plans on public health recommendations, group size restrictions, travel policies, and campus guidance for gatherings. At this time, we do not recommend that parents and family members make travel arrangements to visit campus for Family Weekend. We will provide more details regarding registration and event plans soon.
In order to offer options you'd enjoy in this new event format, we have put together a short interest survey to gather your ideas for what you would like a virtual Family Weekend experience to include.
Thank you for your flexibility, ideas and partnership, and we look forward to connecting with you (virtually) at Family Weekend 2020.