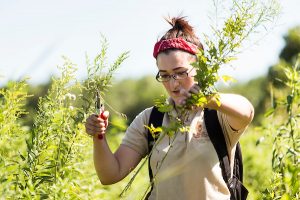 Working at UW–Madison is an important way for students to enhance their Wisconsin Experience. In addition to helping students make extra money, campus employment is more than "just a job," but an out-of-class learning opportunity.
One of the neat things about student employment is that it can connect to many different areas of a student's college experience. Work environments can help students make friends, find community, connect to campus, build leadership skills, explore potential careers, hone professional habits, and more. Having a campus job has also been shown to improve time management skills while helping students expand their professional networks.
"Developing professional skills now helps students maximize their potential after graduation" says Justin Mumford, Assistant Director for Student Employment. "Working at UW–Madison helps students figure out what they love and what might not be a fit for them. Part-time jobs can also help students discover a new passion that leads to a future career."
Most UW departments offer flexible hours, a student first mindset, and are invested in the student experience. Students can search or apply for jobs using the new UW Student Jobs website. When browsing jobs, students can also filter by job category and outcomes.
"Whether students are working in a dining hall, a research lab, or at a front desk, they are developing critical skills in teamwork, work ethic, problem solving, and interpersonal communication," says Mumford.
Each year, UW's student employment team recognizes UW student employees of the year. Learn about the 2019 winners and their experiences in their roles, including what they've learned and their favorite part of their job.