In order to recognize and celebrate your students and your family, we invite you to create a video message for your student and the graduating class. There is no charge to use these services — they are our gift to you.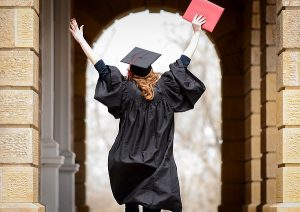 Community Page
Adding a video to the community page allows you to recognize the entire graduating class. Please share one word that describes the class of 2021 and/or one wish you have for students as they start their next chapter.
Personalized DIY Tributes
You can also send a video message directly to your student. With DIY Tributes, you can create an uplifting and commemorative video montage that includes friends and family members as a celebratory keepsake.
Tips for Recording
Find a quiet, well-lit space to record your video. The brighter, the better!
If possible, hold your phone or device horizontally so we can see more of you and your surroundings.
If you can, avoid background noise — we want to hear you clearly.
You can re-record as many takes as needed before submitting your final video.
Questions?
Contact the UW–Madison Parent and Family Program at parent@uwmad.wisc.edu.