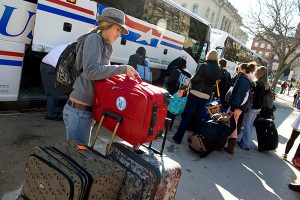 Spring break (March 14–22) is fast approaching, and students are more than ready to have some fun and relaxation — although not all students jet off to the sun-soaked beaches. In fact, most students will be working, going home, visiting friends, or participating in volunteer or service projects.
The Wisconsin Union's Alternative Breaks program, for example, allows students to travel to diverse areas around the country and engage in service learning during spring break. Students embark on life-changing experiences of teamwork, high-impact education, and powerful volunteerism, which serves as a vice to instill and inspire individuals to participate in service and build stronger communities in their own hometowns.
If your student is planning to travel elsewhere on break, share these important safety measures:
Parents, friends or family members should know where students will be vacationing, as well as the departure and return times. Ask that your student call upon arrival and return.
Your student should carry a minimum amount of cash and credit or bank cards.
Have an honest conversation with your student about alcohol, if applicable. You can find possible conversation starters and more information here (page 7). Recommend that your student learn about the alcohol laws of the destination. Encourage responsibility and moderation.
Remind your student to travel with others and to stay together — always use the buddy system.
Lastly, remind your student to remain aware of surroundings and use common sense. Emphasize safety on balconies, being careful about sun exposure and dehydration, locking hotel room doors, and not swimming alone.