As we approach the end of the fall semester, Winter Commencement is less than a week away. All eligible participants are invited to the ceremony on Sunday, December 15, at 10 a.m. at the Kohl Center, 601 West Dayton Street.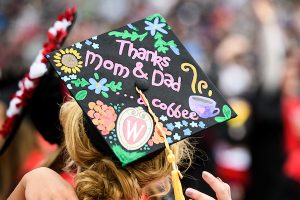 Jason Gay, a sports and humor columnist for the Wall Street Journal and UW alum (1992), will be the 2019 Winter commencement keynote speaker. He has written for publications ranging from Vogue and Rolling Stone, and is the author of the 2015 bestseller "Little Victories." In 2016, The Society of Professional Journalists named him Sports Columnist of the Year. He is sure to entertain and inspire by bringing both his humorous tone and versatile career experience to Commencement this winter. Learn more and watch Jason's announcement video here.
The ceremony lasts approximately 2-2.5 hours. Tickets are not required for graduates or guests, and there is no limit on the number of guests a graduate may bring. Guest seating is available on a first-come, first-served basis. Candidates will be seated on the floor of the Kohl Center and should be in their seats no later than 9:40 a.m. Those who cannot attend can visit the commencement website shortly before the event begins to view a livestream of the ceremony.
UW–Madison is partnering with Empire Photography, a locally owned business established in 1983 by UW alumni Mark and Maggie Smith. All graduates participating in the Winter Commencement ceremony will be photographed as they receive their diplomas and as they exit the stage. Additionally, family and friend portraits will be available inside the Kohl Center at Gates A and B. With no sitting fee and no obligation to order, this is a great opportunity to make a memorable photograph of a once-in-a-lifetime achievement.
Complimentary proofs will be sent via email (grads@empirephotos.com) to graduates and families. To preregister (and view your graduate's proofs within 48 hours of the ceremony), visit the Empire Photography website. If desired, print orders may be placed after viewing your proofs.
For undergraduates graduating in May 2020,  Spring Commencement will take place at Camp Randall Stadium at noon on Saturday, May 9. More details regarding Spring Commencement will be posted to commencement.wisc.edu in January.
We look forward to celebrating the accomplishments of your student!