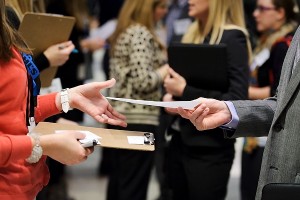 The academic year is in full swing and so is Handshake, UW–Madison's new tool to help students find jobs, internships, and campus career events.
Handshake officially replaced BuckyNet and myECS as the primary student recruitment and career services tool over the summer, and since then thousands of students and employers have made the transition to the new system.
"We chose Handshake because it has a great track record for increasing student engagement, connections to employers, and the quantity of relevant job and internship opportunities," shares Wren Singer, associate vice provost and director of undergraduate advising, and one of the executive sponsors of Handshake. In addition to its solid reputation for increasing student and employer connections, Handshake was also selected based on its modern interface that mirrors other social media platforms like LinkedIn or Facebook.
"I'm extremely pleased with the numbers we're seeing so far," says Singer. "We're only one month into the first academic year using the tool and already we've connected with 12,500 students, 8,500 employers, and approved over 7,000 jobs and internships."
Here are a few reasons career advisors recommend all students activate their free Handshake account, no matter where they are in the career planning process:
They'll Get Personalized Jobs and Internships: Full-time job or Internship? Networking or Career Events? Design & Art or Engineering? With Handshake students can share exactly what they're looking for and get recommendations that are tailored to their interests. The system also recommends opportunities based on other preferences students can set, including major, industries, hobbies, location, and type of experience they're seeking. (Think Netflix's "Top Picks for You")
Because Career Planning Starts Freshman Year: This doesn't mean students need to know their major or career goals right away but it does mean they can — and should — take steps to explore, test, and evaluate their career interests and goals, and activating their Handshake profile is a great first step. Tip: If your student is undecided or exploring majors and careers they can meet with a Career Exploration Center advisor.
Handshake is the Best Way to Find Career Fairs and Events: In addition to personalized job and internship opportunities, Handshake recommends relevant events offered by UW career centers. Students can explore and register for opportunities like job fairs, resume labs, mock interviews, company info sessions, and even on-campus interviews.
Singer is looking forward to seeing the positive impact Handshake has on the student experience in the upcoming year. "It's an exciting time for career services," says Singer, "Handshake will play an instrumental role as the academic advising and career services communities continue to collaborate to support student success."
Student Instructions on how to Join UW on Handshake
Read the Student Terms of Use
Go to MyUW
Search for Handshake
Click "add to home"
Launch the app and start exploring!
If students have questions they should contact their school/college career center or the Career Exploration Center, and they can find FAQs and Help Resources on careers.wisc.edu/students.