"Please, help my student land a great job so they don't have to live in my basement!"
Career advisors at UW–Madison often hear this quip from parents. And while the intent is humorous, the concern is serious—and understandable. The job market is increasingly competitive and constantly changing. These days, some job applications are vetted by computer programs before they even reach human hands.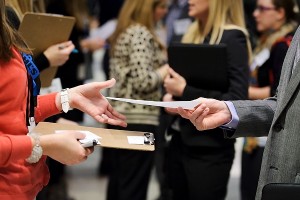 To help students prepare for what's next, UW–Madison has placed greater emphasis on career advising across academic disciplines, including the humanities. In February, the College of Letters & Science launched SuccessWorks, an innovative career center where students can meet with advisors, attend mock interviews, tune up their résumés, take free professional headshots, and network with area employers.
Each of the UW's eight schools and colleges now offers tailored career services, and the centralized  Career Exploration Center works with students who are weighing potential majors and careers.
The focus on career preparation appears to be paying off: more than 60 percent of all UW students report having at least one job offer when they graduate, with another 25 percent having plans to pursue graduate or professional school, according to recent survey data.
Defining a Career
To students, the idea of a "career" itself can seem a bit behind the times. When they hear the word "career," many students think of a step-by-step plan for success stretching decades into the future. Students know this is no longer the way the professional world works. They expect to change jobs multiple times early in their professional lives.
While the extent of job-hopping today is often exaggerated (and difficult to measure), it's true that younger people are switching jobs—and careers—more frequently than in the past. That landscape makes it all the more important that students receive a well-balanced education and cultivate skills that can translate across industries. Even in the most technical of fields, employers often look beyond technical skills, seeing added value in the ability to communicate clearly and think critically.
The Value of a Liberal Arts Education
Disciplines in the liberal arts and sciences often face the most scrutiny when it comes to career value. Advisors at UW–Madison also hear concerns that a degree in the liberal arts is a "luxury" that doesn't offer a great return on investment. That mindset discounts the holistic experience—and versatile skill-building—of a liberal arts education.
A well-rounded liberal arts and sciences education challenges students to gather and evaluate complex evidence, analyze information, and develop persuasive arguments. These are powerful, portable skills that help students to excel in any industry.
"Students majoring in physics, philosophy, psychology, or more than 50 other areas in the College of Letters & Science learn to think and create, communicate clearly, and understand the world from many points of view," says John Karl Scholz, dean of the College of Letters & Science. "Employers in Wisconsin and from around the world recognize the value of the education we provide to our students."
American Family Insurance, for instance, employs more than 500 UW–Madison graduates, nearly half of whom received a degree from the College of Letters & Science. Reputation can go a long way, and the success rate of UW–Madison graduates has prompted some companies to frequent campus for recruiting. In addition to preparing students for the job-application process, the SuccessWorks center aims to deepen connections between students and potential employers.
"[SuccessWorks] is going to transform how we prepare liberal arts students for careers and bring us that much closer to our goal of integrating career readiness into our students' experiences while they are here on campus," UW Chancellor Rebecca Blank said at the center's grand opening.
(Read a student perspective on how "SuccessWorks reaffirms intrinsic value of liberal arts education" in the Badger Herald.)
Building Career Communities at SuccessWorks
SuccessWorks provides specialized support through eight career communities, which are grouped by occupations in which recent alumni have excelled. The communities include communications, arts, and entertainment; healthcare and wellness; and technology, data, and analytics.
Giselle Blocker, a UW senior, is set to graduate in May with a degree in history, a long-time passion of hers. Along the way, she realized that she'd prefer to pursue a career in business once she graduates. Blocker sought out SuccessWorks, which helped her translate her skills, connect with alumni mentors, and practice interviewing with real employers. A short time later, she was offered—and accepted—a business analyst job at a major consulting firm.
"No one questioned for a second my intentions about wanting to go into business," Blocker says of her visits to the SuccessWorks center. "Rather, they immediately asked me how they could help."
How to Support Your Student's Career Readiness
No matter your student's major, intended career, or academic level, the best advice is to prepare early.
Start by encouraging students to connect with on-campus organizations, clubs, and events. These experiences are often the foundation for career success, and they give students access to networks of friends, mentors, and alumni who can help them get ahead.
Remember, too, that you or other family members can be a great starting point for your student's budding professional network. It's not always easy for students to get started with networking. By connecting your student to your colleagues, friends, or other family members who can offer professional advice and exposure, you'll help them build networking skills and confidence.
Below are some additional resources for students who are beginning to prepare for what lies ahead.
First-year students:
Students in the College of Letters & Science:
Students in other schools and colleges:
—Nathan Barker, SuccessWorks at the College of Letters & Science