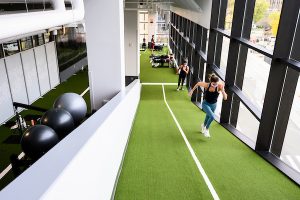 As the days get shorter and the weather turns colder, your student may start to feel isolated, anxious, or not like their typical self. These feelings are very normal and very common. Remind your student that they are never alone — staff within Student Affairs are available to help them navigate challenging times, as well as connect students with campus resources and services.
To support student well-being and fight stress, Dean of Students Christina Olstad and the Director of Mental Health Services Sarah Nolan, Ph.D. share eight tips that may help students feel healthier and happier this winter. Watch the video or browse their tips below:
Stay active — whether you work out at home, at the gym, or outside, exercising regularly can reduce symptoms of depression and improve your mood.
Shift your focus — this means limiting the time spent thinking about things that are bothering you and intentionally turning your attention toward a kind act, expressing gratitude, feeling awe, or helping others.
Stay connected with others even if you are physically apart.
Get outside to help boost your mood.
Engage in self-care — pay attention to what feels good to you. Eat healthy foods, prioritize good sleep, stay hydrated, and maintain a daily routine.
Get Vitamin D3 — In northern climates like Wisconsin, the sun's rays are not strong enough to give us what we need. Talk with your doctor about supplements (the daily recommendation in the U.S. is 1,000 international units) and eat foods that are natural sources of vitamin D.
Consider using a light therapy box.
Call a professional — speak with a provider if you experience feelings of being down or have decreased interest in doing the things that used to bring you joy. It is especially important to reach out if these symptoms are disruptive to your daily life, you feel hopeless, or are having thoughts of suicide.