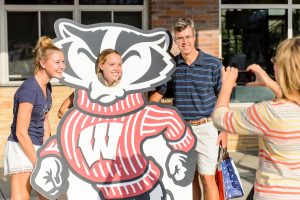 Experience the beauty of springtime in Madison this April during Family Day (formerly Sibs Day). Registration for Family Day 2019 — scheduled for Saturday, April 13 — is now open.
Family Day is an opportunity for UW parents, siblings, and the whole Badger family to attend free, family-friendly events throughout the UW campus and community. There is no registration fee or cap on attendance for Family Day — just come and spend time with your student!
All Family Day registrants will receive a Badger giveaway, University Book Store coupon, parking information, and updates on events. To view the current schedule, visit the Family Day webpage. Check back in March as events and activities will continue to be added as they are announced.
Can't make it on April 13? View a suggested list of events and activities happening throughout the month on the Family Day webpage.
We hope to see your family in April!