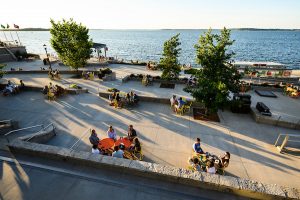 The days are getting warmer, and the sun is shining longer — spring is here and so is the end-of-year restlessness that can come as finals get closer. As we move into the new season, we know that parties and alcohol use tend to increase. Please share these reminders with your students to help us all stay safe, healthy, and happy this spring.
Stay Safe
Be mindful of your alcohol consumption and take care of yourself. If you choose to drink, please do so legally and responsibly — and never leave your drink unattended.
Practice moderation. Set a limit for yourself so you know when to stop.
Always eat before you drink alcohol and hydrate with water. Without food in your stomach, alcohol absorbs into your bloodstream dangerously quickly and can lead to unintended consequences like alcohol poisoning.
Need someone you can trust to walk you home? Remember your friends at SAFEwalk.
Be alert and aware. Take care of yourself and each other.
Plan to be with at least one friend. This will allow you to have someone at your side in the case of an emergency.
Take Care of Each Other
Create an environment of respect and consent. Hold the people around you accountable if they create harm by objectifying others or crossing boundaries.
Consent is key. Make sure partners are in a good state of mind to move forward with intimacy.
Look out for each other. If you notice a harmful situation, distract or interrupt the situation, delegate someone else to help, or be direct and check in. Learn more about these strategies on the UHS bystander intervention website.
See something? Say something. If you're worried about a friend, fill out an incident report. We are part of a community and Badgers help one another.
Does your friend need help? UW–Madison's Medical Amnesty Through Responsible Action guidelines allows you to get help for others without fear of repercussion. If you are in a life-threatening emergency, immediately call 911.
Be kind. Not everyone celebrates in the same way, and it's important to show respect to fellow Badgers and community members. Always.
Be Well and Have Fun