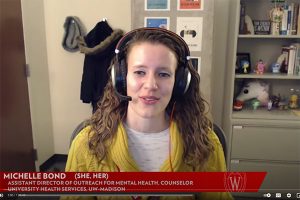 Parents and families play an important role in helping their students through various aspects of their college experience. One of these aspects is helping their students find a community of care on campus. A community of care is an interconnected web of support and resources that help contribute to student well-being and success. This can include friends, family, academic advisors, mental health providers, and any other resource that encourages student well-being.
The Parent and Family Program teamed up with Michelle Bond, Assistant Director of Outreach for Mental Health Services and Counselor at University Health Services (UHS), for our recent Badger Family Forum titled "A Community of Care on Campus." This conversation is part of our Badger Family Forum series, which includes topic-based chats with campus experts who answer frequently asked questions from parents and family members. If you missed our forum, you can watch it here, or read these key takeaways:
Prevention is key. The earlier issues are addressed, the easier it can be for students to receive the support they need. There is no one-size-fits-all approach to well-being, but learning what works best for an individual and utilizing resources early can help. Students don't need to wait until they are in crisis to reach out; wellness services, workshops, and more are here any time.
Normalize their experiences. It's not uncommon for students to feel alone in their struggles or like they are the only person experiencing an issue. Reassure your student, validate their emotions, and ask questions. Point them to campus resources and check in on them along the way.
Know the warning signs. Some indications that a student is in need of support can be a change in grades, daily activities, sleep schedules, and meal schedules. Not every student will be vocal about their experiences, so it helps when people who care for them and know them well are on the lookout for any behavior changes.
Encourage students to seek support. UHS has many resources to support students. View all services at uhs.wisc.edu.

Let's Talk: Let's Talk is a program that provides easy access to informal and confidential support and consultation with counselors from UHS Mental Health Services. Counselor consultants hold drop-in hours virtually and at sites around campus Monday through Friday. Any student is welcome at any site and no fee is charged. Common concerns include: stress, sadness, worry, relationships, academics, family problems, and financial struggles.
Wellness Programs: UHS offers wellness programs in an individual or group setting to support a student's pursuit of a healthy mind, body, and spirit. Personal wellness programs include: healthy living consultation, nutritional counseling, meditation training, mindfulness training, authentic happiness and positive psychology programs, exercise consultation, yoga, massage, stress management, sleep management, headache treatment, and smoking cessation. They also have guided relaxation podcasts on Spotify.
Silvercloud: Silvercloud is an online, self-guided, interactive mental health resource that students can access 24 hours a day. Silvercloud's learning modules address anxiety, depression, body image, stress, sleep, and resilience.
Mental Health Services: UHS mental health providers offer an open, safe, and confidential environment to help students through issues that may interfere with their development, well-being, and academic productivity. UHS's no-cost mental health services include individual, couple/partner, group counseling, outreach programming, and stress management.
24-Hour Crisis Services: The crisis support line is available 24/7, 365 days a year. They receive calls from students, family members, partners, friends, roommates, faculty, staff, and other campus community members who are concerned about a student. Contact the crisis line at 608-265-5600 (option 9).
Care Managers: If a student needs long-term, urgent, or specialized treatment, University Health Services (UHS) may suggest an outside community provider to better meet their needs. Some students choose to pursue treatment in the community instead of at UHS. Students may be able to use their insurance for counseling and psychiatry in the community and Care Managers can assist them in getting connected to care outside of UHS.

Assess the type of support your student needs. Not every issue requires a therapist and there are many offices and programs that are designed to support students. Refer your student to these additional networks of support:
Checking in on your students and helping them create their community of care on campus is vital to their success. For further questions and information, email the Parent and Family Program at parent@uwmad.wisc.edu or call us at 877-262-3977.