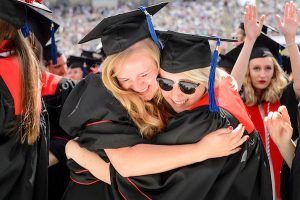 Below are a few reminders for May graduates. For the most up-to-date information related to commencement, please visit commencement.wisc.edu.
Apply for graduation: Students must apply to graduate and indicate their intention to attend the commencement ceremony in the MyUW Student Center "My Academics" tab. Students must apply before March 29, 2019, to ensure that their name will appear in the commencement program. Learn more on the commencement website.
Confirm diploma mailing address: Diplomas are mailed to the Home address listed in MyUW Student Center. If students want their diploma mailed to a different address, they should add a Diploma address in Student Center.
To receive their diploma, international students are required to add a Diploma address in MyUW Student Center. The Diploma address can be the same as their home address, but an address needs to be listed in Student Center with an address type of "Diploma."
For student loan borrowers: An exit interview is required for students that borrowed an institutional loan from UW—Madison (i.e. Perkins Loan, Nielsen, Dohmen, etc). Failure to do so will delay the mailing of a diploma. Learn more about the institutional loan exit interview process.  If your student instead received Federal Direct Loans (subsidized or unsubsidized), they will be invited to complete similar exit counseling online.
Resolve outstanding holds: Students should check MyUW Student Center for any holds, such as outstanding library fines, and follow the corresponding instructions. Some types of holds will prevent diplomas and transcripts from being released until the hold is cleared.
Commencement attire: Candidates should wear academic attire — cap and gown for all candidates, with a hood for master's and doctoral candidates — appropriate to the degree to be conferred. All academic attire may be acquired from the University Book Store. Attire must be rented online by March 29.
Exclusive alumni pins: Graduating students can grab their official Wisconsin Alumni Association alumni pin at commencement. They'll want to wear it loud and proud because they're joining a family of 440,000 alumni around the world!
Diploma covers: Students will receive an embossed red diploma cover as part of their school/college/department's commencement event. The Office of the Registrar has diploma covers available for students who are unable to participate in regular commencement events.
For families: You are receiving this e-newsletter because our records indicate that you have a fourth- or fifth-year student. If your student is not graduating, contact us.