Dear Graduating Families,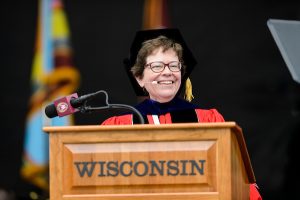 As the parent of a fourth- or fifth-year student, you may be preparing to attend commencement this spring. I know you are proud of your soon-to-be graduate's achievements, and I want to provide you with some information to make your visit to Madison for commencement weekend go smoothly.
Our commencement website, commencement.wisc.edu, will be updated throughout the semester with the latest news about events held throughout the weekend. Please continue to review the information on this site as we get closer to the celebration.
As in the past several years, UW–Madison will hold two ceremonies:
All bachelor's, law, and master's degree candidates will celebrate in a single ceremony held on Saturday, May 11, at noon in Camp Randall Stadium, 1440 Monroe Street. The ceremony will last approximately 90 minutes. We are pleased to continue the new tradition of bringing the entire class of 2019 together in one place, celebrating its many accomplishments in a uniquely "Wisconsin" way.
Doctoral, MFA, and Medical Professional degree candidates from all schools and colleges will celebrate in a ceremony on Friday, May 10, at 5:30 p.m. in the Kohl Center, 601 West Dayton Street. The ceremony is expected to last two and a half hours.
This letter focuses on the details of the ceremony for bachelor's, law, and master's degree candidates. For more information about the ceremony for doctoral, MFA, and Medical Professional degree candidates, please visit commencement.wisc.edu.
Tickets and Accessibility
No tickets are required for general admission. Degree candidates are welcome to invite as many friends and family members as they'd like to celebrate.
Advance notification is required for persons requiring wheelchair seating. For more information about registering for wheelchair seats, please visit the site or email commence@chancellor.wisc.edu.
Should you require accessible parking (located on the north end of Camp Randall), you will need to request an accessible parking permit event pass for commencement. This will be displayed along with a state-approved accessible hang tag or license plate. Passes are available on a first-come, first-served basis.
Parking and Shuttle Transportation
Please allow adequate time for parking to avoid last-minute congestion in gaining access to Camp Randall. Parking is available in most university lots, city parking ramps, limited spots on city streets, and commercial parking venues. All university lots will be free of charge from noon on Friday, May 10, through 6 p.m. on Sunday, May 12. For a map of campus parking lots, visit map.wisc.edu.
A free shuttle will run to different campus events and locations on Saturday, May 11. Visit our maps, parking, and shuttle page for more information.
Inside Camp Randall
Camp Randall Stadium will be open to guests at 10 a.m. on Saturday, May 11. Guests may enter through gates 1, 7, 8, 9, or 10 and will be seated in the stands.
To ensure a safe and secure event, guests will be subject to a visual inspection and bags will be searched upon entering the stadium. Please be sure to review our list of permitted and prohibited items on the commencement site before you arrive.
Graduates will be seated on the field at Camp Randall by school, college, or degree, and are asked to be in their seats no later than 11:20 a.m. Please note that access to the platform and graduate seating area at Camp Randall is restricted to graduates and commencement officials at all times.
Photos
Prior to the ceremony, students will have an opportunity to have a professional photo taken at Camp Randall. Complimentary photographic proofs will be emailed to the graduates.
Viewing Online
For those unable to attend, the ceremonies will stream live at commencement.wisc.edu starting 10 minutes prior to the start of the ceremony.
Other Commencement Events
Each school and college will hold its own graduate recognition event during commencement weekend. Information about these events will be updated throughout the semester on the school and college events page. Many departments, honors programs, and other groups will also be hosting events; students are encouraged to contact their departments for more details.
Please direct any questions you may have about commencement to Campus and Visitor Relations by calling 608-263-2400 or emailing commence@chancellor.wisc.edu.
I congratulate you on the achievements of your student and extend the university's very best wishes for your graduate's future. I do hope you are able to join us in May.
Sincerely,


Rebecca M. Blank
Chancellor