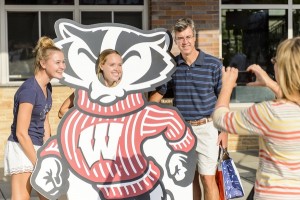 It's not too late to attend Badger Family Spring Visit and to take advantage of all there is to see and do during springtime in Madison. A wide variety of free and low-cost events are happening during the last two weekends in April, including:
The Varsity Band Concert
A study-abroad open house for parents
Sporting events, including men's and women's tennis games
The Crazylegs Classic Run/Walk
The Wisconsin Spring Football Game, which supports UW–Madison undergraduate advising
The Farmers' Market
Music and theater performances
And much more!
It is free to attend, and you will receive a complimentary welcome bag filled with great Wisconsin giveaway items. To view the complete list of weekend events and special attractions, and to reserve your welcome bag, visit the Badger Family Spring Visit page. Questions? Call 1-877-262-3977 or e-mail parent@uwmad.wisc.edu. We look forward to seeing you!