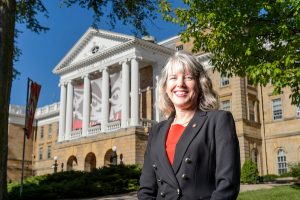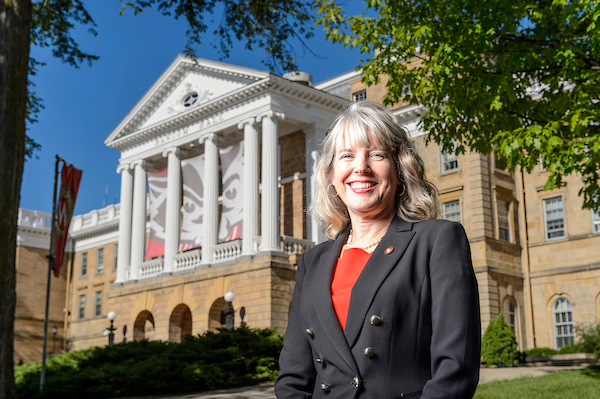 Dear parents and families,
As a fellow parent (and proud Badger mom!), I know well the push and pull that summer can bring — the excitement for new beginnings and longing for a fresh start alongside the sadness of closing another chapter.
Change comes with all kinds of feelings.
I've worked in Student Affairs for many years now and have been UW–Madison's vice chancellor for student affairs since 2018. Our role in Student Affairs is to support students outside of the classroom —through community building, leadership opportunities, and well-being — so that they can be successful in the classroom. It's a role we feel privileged to share with you through the Parent and Family Program.
Whether you're sending your first or last student off to college or are in the middle of your journey to becoming empty nesters, every "goodbye" or "see you later" marks a new stage. The late scholar William Bridges said that change is never the thing that "does you in." Rather, it's how you come to terms with a new situation. There is the excitement of a new beginning with every ending, and conflicting emotions are normal for both you and your student.
Have you taken time to reflect on the upcoming transition (or return) to UW–Madison and what that means for you or your family?
You play an important role in helping your student learn how to make choices that best reflect their values and support their community. No matter what stage your student is at in their college journey — take time to check in as they make the next transition.
Here are a few questions you could start with (and I'm sure you'll have some of your own as well):
What are they looking forward to or most nervous about the upcoming year?
How are they closing this chapter of their life—how will they say goodbye to and keep in touch with friends who are staying home or going to other schools?
What is something new or outside of their comfort zone that they want to try this year?
Take care not to simply distill what you're hearing to items on your to-do list but to consider how your relationship with them is evolving to more of an advisor or coach — empower them to make and execute their own plans.
Part of transitioning and learning is students making their own decisions.
The college experience, and in many cases living away from home, is life-changing. It leads to growth (and maybe conflict, too) as your student explores new interests, aspects of their identity, and greater independence. Encourage your student to try new things. Talk with them about setting personal and academic goals. Help them understand personal boundaries and making safe and healthy choices. Make a financial plan together. Let them know that you are there to listen or offer advice and that you believe in them to make their own decisions.
Know that we are here to support them (and you!) as well.
We have a number of student services, but sometimes students may be hesitant to reach out for help and assistance. This is where you come in. Encourage your student to explore services and options for getting involved at UW, or if they have a problem or need assistance, that we are available to support them as well. A great place for your student to find help if they're not sure where to go is at the Dean of Students Office. And a wonderful place for you to keep coming back to for community support and professional resources is the Parent and Family Program.
We are excited to welcome your student and to help them make the most of their time here. Thank you for choosing UW–Madison and for being part of our community. We look forward to being on this journey together with you.
On, Wisconsin!
Lori Reesor, PhD
Vice Chancellor for Student Affairs