As graduation approaches, it's important for students and their family members to evaluate upcoming life changes. Health insurance is a significant aspect to consider, as each student's situation varies depending on current coverage and potential job opportunities. Dr. William Kinsey, interim executive director of University Health Services and UW–Madison's chief health officer, offers these tips to parents: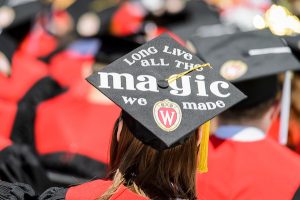 The Affordable Care Act (ACA) still requires most individuals to have health insurance. One provision of the ACA allows dependent individuals to remain on their parents' insurance plans until age 26. This may benefit your student after graduation.
If your student will not be covered, consider helping your student purchase some form of coverage. Please note that lower-cost individual plans may offer limited coverage for services such as inpatient care, intensive care, prescription drugs, or mental health treatment. If comprehensive insurance is too expensive, at a minimum consider catastrophic coverage.
Depending on income, your student may qualify for a premium subsidy (assistance) through the ACA that will lower the cost of an exchange plan. Your student may also qualify for a cost-sharing subsidy that will lower out-of-pocket health care expenses. For more information on exchanges and who qualifies for assistance, visit the Health Insurance Marketplace.
School coverage often ends after graduation, but students enrolled in the UW–Madison Student Health Insurance Plan (SHIP) may be eligible for continuation coverage. To learn more about SHIP continuation, visit uhs.wisc.edu/ship/continuation.
Students who will spend the summer in Madison have the option to pay the summer health fee and continue to use University Health Services (UHS) through August 15 for basic and primary care services.
If your student is starting a new job, provide coaching on how to evaluate the healthcare plan offered by the employer. In many cases, benefits may not begin for several months after starting a new job. To avoid a gap in coverage, ensure that interim coverage is available.
Consider where your student will be living. If your student relocates, you may need to help your student find a new primary care provider. Due to limits on health insurance, coverage amounts from provider networks may be lower, requiring more patient out-of-pocket contributions depending upon where a student will receive health care services. Make sure the insurance plan provides adequate coverage where the student is likely to seek medical care.
Encourage your student to get a check-up and refill any medications before graduation.