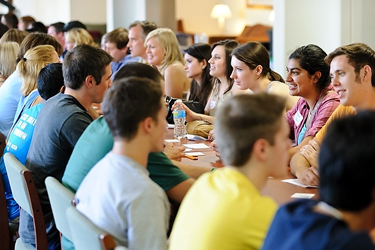 Families whose student transfers to UW–Madison may already have a good sense of what college is like, but are also in the process of learning the landscape of UW–Madison. Transfer students make up nearly a quarter of our undergraduate student body and serve in countless campus and community organizations and academic arenas. Several resources are designed to support and assist transfer students throughout their time in college.
Whether a student is preparing to transfer or has already enrolled at UW–Madison, the Transfer Transition Program, coordinated by the Center for the First-Year Experience, can assist students in making the transition to becoming a UW student. Their primary goal is to enhance academic and personal outcomes for transfer students by shaping a campus environment that encourages and supports positive academic and social engagement. Their office provides information for prospective, newly admitted and current transfer students. Their office also offers:
After your student has been admitted and confirmed his/her intent to enroll, the Office of Admissions and Recruitment will perform an official evaluation of his/her transfer credit. Their transfer course equivalency database and guidelines assist students who wish to evaluate how their courses may transfer.
An active organization led by transfer students for transfer students, which strives to ease transfer students' transition to UW–Madison and enrich their university experience by giving them a voice in the Madison community. STAMP achieves this through transfer student retreats, volunteer work, fundraisers, outreach, mentoring, and social events including visits to popular Madison attractions.