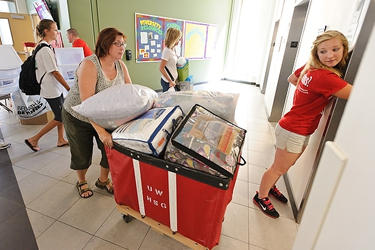 UW–Madison is home to students from all over the world — and all 50 states! Sending your student to Wisconsin may bring up questions as you assist your student transition to a new place.
Provides information about parking, traveling to and from Madison, moped safety, buses, biking, car sharing, as well as maps and directions.
Get to know your student's new city by browsing events, attractions, dining options, hotel options and more.
Initial residence determinations for tuition purposes at the University of Wisconsin–Madison are made by the Office of the Registrar's Residence Counselors, based on the provisions of Wisconsin Statutes 36.27(2) which governs residence status for tuition purposes. In general, you must be a bona fide resident of Wisconsin for at least 12 months prior to enrollment to be eligible for in-state tuition.
Students coming to UW–Madison from a distance sometimes utilize storage options, especially those who plan to return home during the summer.
While students find the easiest, fastest and most economical ways to get around campus are by walking, biking or riding the bus, some students choose to bring their car to campus, although it is not highly recommended. If your student needs to get his or her car registered in Wisconsin or needs to get a Wisconsin license, encourage him or her to visit the Wisconsin Division of Motor Vehicles.