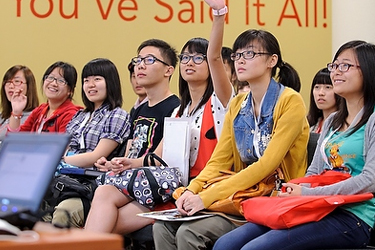 Sending your student to a new country is an exciting process that comes with its own set of questions and resources. The UW–Madison international student population is among the largest of any university in the country and our campus recognizes the important contributions international students make to our community. We hope to better support your student by providing you with the information below.
中文 (Chinese)
Sitio Web en español (Spanish)
¡Haga una pregunta en español! (Ask a question in Spanish)
Preguntas frecuentes (Frequently asked questions in Spanish)
Cov lus nug tas li (Frequently asked questions in Hmong)
Features information in English about specific resources and organizations for international students, visiting Madison, the Student Health Insurance Plan (SHIP), obtaining a Social Security number, scholarships, what your student can expect in the classroom and much more.
International Student Services (ISS) offers a wide variety of services and programs for international students, including advising, documentation, information, programming and education. Any questions or concerns your student may have during his or her college career can be directed to their office.
An interactive guide featuring information about visa and immigration issues, academics, employment, student life, the Madison campus and community and testimonials from current international students.