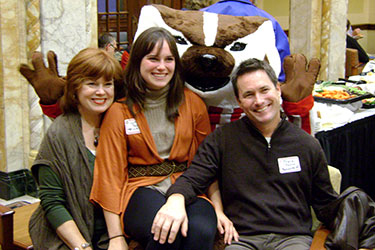 The transition from high school to college is an important milestone in the life of your son and daughter. While every student is different, we offer advice and conversation starters to help you anticipate things that your son or daughter may experience and provide the tools for you to support him or her through this transition. The following resources may also be helpful to you as you support your new college student.
This special edition of the newsletter contains information for incoming families regarding Summer Orientation and Registration (SOAR), the McBurney Disability Resource Center, college finances, buying textbooks, academic opportunities in University Housing, key contacts, and more.
The Center for the First-Year Experience (CFYE) offers a variety of programs designed to help new freshmen and transfer students make the transition to UW–Madison. Some of their major programs include Student Orientation Advising and Registration (SOAR), Wisconsin Welcome, and the Transfer Transition Program.
Your student's first year in college is often his or her first time living away from home or sharing a room. Although what students choose to bring often comes down to personal preference, we have outlined some suggestions for what to bring to campus. Keep in mind that after moving in, students can always purchase or bring additional items from home. Finally, they should remember that along with packing essentials, they should bring a sense of self, a sense of purpose, and a sense of humor.
First-Year Interest Groups (FIGs) are designed to help first-year students make the transition to UW–Madison, both academically and socially. A FIG is a "learning community" of about 20 students with similar interests who are enrolled in a cluster of classes together. The courses in a FIG are linked by a common theme, and the faculty member teaching the main seminar course of the FIG helps students discover the interdisciplinary connections between and among the classes.